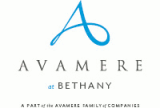 Avamere at Bethany
Senior Housing 16360 NW Avamere Ct Portland, OR 97229 888-758-3187
Avamere at Bethany sits in the most beautiful spot. Our Portland, Oregon, senior living facility is right across the street from a lovely golf course, and we get to enjoy a scenic park extending the b...
More



What do these symbols mean?
Means they have passed our pre-screen criteria
Means they have not passed one or more of our pre-screen criteria or have not been pre-screened
When we do pre-screen, what do we look for?
All senior housing communities and home care agencies on Care.com have been pre-screened by one of our Care Force team members. During the pre-screening process our Care Force:
Verifies license information if licensing is required by the state (see details)
Verifies profile information for accuracy
Checks the Better Business Bureau for accreditation and reputation ratings
Conducts an online media search for negative, newsworthy incidents
Performs an overall reputation check by reading a sample of online reviews by customers like you
Information reviewed during the pre-screening process can change at any time. Accordingly, please make sure you perform your own research on the care providers you are considering and feel completely comfortable with the company or individual you have selected. Ultimately, you are solely responsible for selecting an appropriate care provider for you and your family.
Details:
Home Care Agencies: Many states require a specific license to provide home care services however, the following states do not require a license: MO; AL; AK; AZ; AR; CA; HI; ID; IA; KS; KY; MA; MI; MS; MT; NM; OH; SC; SD; VT; WV; WI; WY.
Assisting Living and Nursing Homes: All states require licensure for facilities that have more than 6-10 beds
Retirement Communities: Do not require a license in any state
About this community
COMMUNITY DETAILS
Assisted living
Retirement community
Studio
One bedroom
Two bedrooms
Cottages
Alzheimer's/Dementia care
Rehab care
Personal care services
FINANCIAL
FEATURES
24 Hour staff
Fitness center
Library
Computer/Internet access
Housekeeping services
3 Meals daily
Restaurant Style Dining
ACTIVITIES & AMENITIES
Creative activities
Off-site excursions
Fitness classes
Organized social gatherings
Bingo, Billiards
Beauty/Barber shop
Arts and crafts studio, Computer Center