A podcast for working parents who are trying to balance it all while caring for the people they love — including themselves.
Brought to you by Care.com, Equal Parts is a podcast for working parents who are trying to balance it all while caring for the people they love — including themselves. Being a working parent is hard. But you do it for the ones you care for, because they're the ones you care most about. You can never be prepared for everything that is thrown your way — whether at work or at home. But, the Equal Parts podcast will try to make this a little easier for you. We will talk to experts, authors, and parents who will share their insights, advice, and tips on how to navigate parenthood and professionalism — at the same time.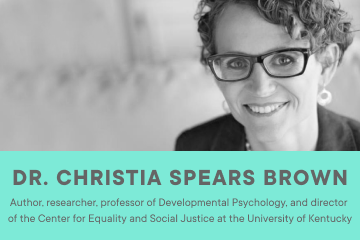 Talking to kids about politics and the election
If you think politics is stressful and confusing for adults, imagine how kids feel. (Yes, they are paying attention!) Heated debates. Constant breaking news. Ads for candidates on social media. Kids absorb more about politics than we realize. Which is why it's up to parents to model civility, teach respect for different viewpoints, and set the right example for responsible political engagement. Dr. Christia Spears Brown is a professor of Developmental Psychology at the University of Kentucky and director of the university's Center for Equality and Social Justice. She shares findings from a
2019 study
on kids and their political thinking and offers advice on how to talk to your kids about politics, partisanship, and elections — in language they will understand.
Listen to this episode to learn:
If there's a "too young" to start talking about politics with kids
How our values and our communities play central roles in shaping a child's political thinking
Age-appropriate ways to start conversations with kids about race and gender using concepts like fairness and respect
Research on how kids viewed the 2016 election, and what it can teach us this year
Practical ideas for encouraging kids of all ages to stand up for the causes and issues they believe in
Resources for teaching kids about politics, elections, and how American democracy works (check out tolerance.org and kidsvotingusa.org)
Emily Paisner, Host, Equal Parts
Emily is "equal parts" marketer and mom. By day she leads marketing for Care@Work by Care.com, advocating for employees of the world's biggest companies to get the care they need. On nights and weekends, she's focused on her other role: Chief Everything Officer. You can find her cheering loudly on the sidelines of the soccer field, in the bleachers at the swimming pool, or trying to maintain some sort of order at home. Her greatest joys: her kids, Jacob and Lillian, and step-daughter, Erica. And, of course, her husband, Jon, deputy CEO, full-time working parent, and kickass dad.