The Cost of a Live-In Nanny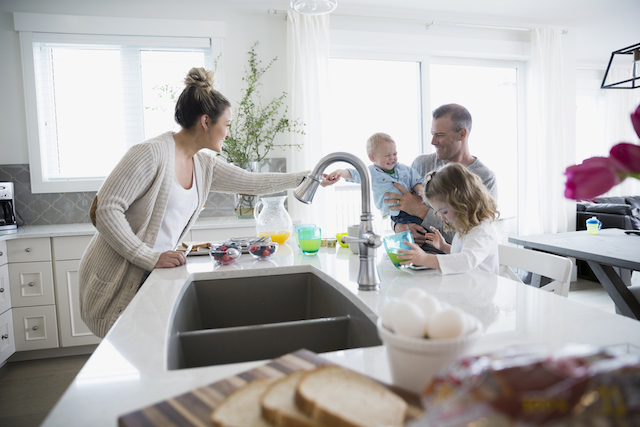 Many families think that hiring a live-in nanny is out of the question. After all, having someone live in your house is bound to be more expensive than having a nanny who reports to your home for 40 hours a week, right? Maybe not.

If your family is struggling with needing more flexibility than a live-out nanny can offer, you might find hiring a live-in nanny is just as manageable financially.
What's Cheaper: Live-Out Nanny or Live-In Nanny?
Technically, live-in and live-out nannies should receive the same hourly rate because you're paying for the same services. In reality, many live-in nannies make slightly less per hour than a live-out nanny because they live in your home and absorb the costs of room and board.
What Should You Pay a Live-in Nanny?
As with any pay rate, ranges differ based on several factors. Major metropolitan areas typically demand higher rates of pay, as does the level of a nanny's education. The International Nanny Association reported that the financial benefits of having two years of college education or a master's degree can equal more than $100 extra in a paycheck every week.

Just like education, experience is also important. For every year of experience as a nanny, the pay rate will also increase. A nanny with five years under their belt can make nearly $500 more a month than a novice nanny.

Above all, keep in mind that live-in nannies must be paid at least a minimum wage (find out the rate in your state). This rule is the same for live-out nannies too, but it's particularly easy to think that a live-in caregiver who works so many hours in your home can be paid at a lower rate.
What Additional Nanny Expenses Are Involved?
When you hire a nanny, don't forget about the extra costs that can crop up. Things like an annual yearly bonus, yearly raises, food costs, insurance, memberships, gas reimbursement, etc. Figure out what you will be paying for, whether you will provide a stipend or reimburse your nanny for any expenses and include the details in your nanny contract.
What Are Live-in Nanny Work Hours?
Families sometimes think having a live-in nanny means their nanny is on call for all hours of the day. However, you should be mindful of your nanny's time and have a scheduled set of hours the nanny will work.

Additionally, you need to pay your nanny for every hour they are on duty. And remember that "on duty" doesn't only mean they are actively engaging with the kids. If your nanny is required to be in your home and isn't free to come and go as they please, they are on the clock.

A typically live-out nanny is usually paid hourly for 40 hours a week -- anything over that is paid at an overtime rate. On the other hand, most states don't require you to pay live-in employees overtime, but a few (California, Hawaii, Maine, Maryland, Massachusetts, Minnesota, Nevada, New Jersey, New York and Oregon) have specific overtime laws for live-ins.
Do You Pay Nanny Taxes for a Live-In Nanny?
The short answer: yes. If you pay someone more than $2,100 a year, you're required to pay taxes. But paying these taxes can actually save you money in the long run. Learn All About the Nanny Tax.

If the idea of being in charge of payroll and taxes makes you uneasy, Care.com HomePay can take care of your nanny's payroll and taxes so you don't have to worry about tax withholdings and filing deadlines.