Do You Need Nanny Insurance?
4 types of insurance you may want if you hire a nanny.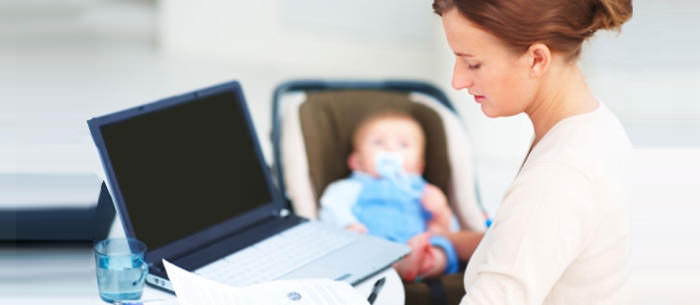 Once you hire a nanny or other type of caregiver, you become that person's employer. And there are lots of fun HR-type things to think about, like payroll, nanny taxes and...insurance.
But what type (or types) of insurance do you need? And how do you find it?
We asked Stephanie Breedlove, VP of Care.com HomePay; Gary Stephenson, a State Farm spokesperson; lawyers Lisa Pierson Weinberger, founder of Mom, Esq., and Judith Galeano of Mowery Youell & Galeano, Ltd. in Dublin, Ohio, to explain the complex insurance coverage you need.
"People don't really see how anything could go wrong," says Weinberger. "They just don't anticipate it."
But you don't want to leave your family or your nanny vulnerable. A good insurance agent is essential, but they can't help you if they don't know your situation.
"A person should visit with their insurer or agent -- on the front end -- so that they understand their liabilities and the protection that would be appropriate," says Stephenson.
Health Insurance
Employers aren't usually required to provide a nanny's health insurance, but many either do or contribute funds to a private plan, says Weinberger. You can enroll your nanny in a plan and have the bill sent to you, but some nannies request a set amount of their salary to put toward health insurance. In that case, says Weinberger, ask her for a statement to ensure coverage, but don't pry. "You don't need to ask about doctors or disclosures, just ask for the monthly bill," says Weinberger.

Learn how the Affordable Care Act can help »

Liability Insurance
Liability insurance provides coverage for bodily and personal injury inside your home, says Galeano, and "personal umbrella liability insurance" offers an additional layer of protection to your homeowner's policy. Specialized business liability insurance offers coverage for you as a professional nanny to protect you from lawsuits (injury to another child, for example), but not all companies offer it. Weinberger says you should investigate any policy to make sure it's reputable and that you know about any exclusions.

Car Insurance
If your nanny drives your kids, you need adequate insurance, and auto insurance requirements vary by state. If the nanny drives your kids in her car, you should pay her mileage to cover gas, insurance and maintenance, says Weinberger, but you don't have to pay any additional insurance fees. If, however, you want her policy to have more coverage than what she currently has, you'll need to pay the difference between the coverage she has chosen and the coverage you want her to have. According to Galeano, your nanny should ask her insurance broker about reclassifying her car insurance use from personal to business, as it will vary with each situation.

If your nanny drives your car, add her to your policy. If she's driving your car and has an accident, your policy likely won't cover it otherwise. You don't need to pay her mileage when she uses your car, but your overall costs will include gas, maintenance and the extra insurance on your car.

Learn more about How to Handle the Car Situation with Your Nanny »

Workers' Compensation
Workers' compensation insurance is administered by the state, but it isn't required by every state. (Use this list to check your state.) Required or not, you should get it. "This is one thing lots of employers don't think to do, but it is critical," says Weinberger. "If your nanny is injured and you have no policy, the employer is personally liable for any resulting damages."

What injuries can your nanny get on the job? She could trip going up the stairs or get a dog bite while she's at the park with your child. "Those are workers' comp issues," says Weinberger.

Workers' compensation protects both the employer, who won't be sued for an on-the-job injury, and the nanny, who will have quick access to needed benefits. Care.com HomePay offers HomeStaffPROTECT, a unique workers' compensation product for families with nannies, that streamlines the application process in many states. In other states, it can guide you to an agent who can personalize your policy. Call HomePay at 888-273-3356 to sign up.
If you're an employee or a nanny, you have the right to confirm policy coverage with your employer. It's a work issue, not a trust issue. And, says Weinberger, you can always say your lawyer or your insurance agent said you must have copies of that policy for your records. "If someone says, 'No,' that is a red flag," she says.
Julia Quinn-Szcesuil is an award-winning freelance writer and a mom to two girls. She lives in Massachusetts and has written for local and national publications.
Your Next Steps: