Budgeting for in-home senior care costs
6 line items that every family should account for in elder care planning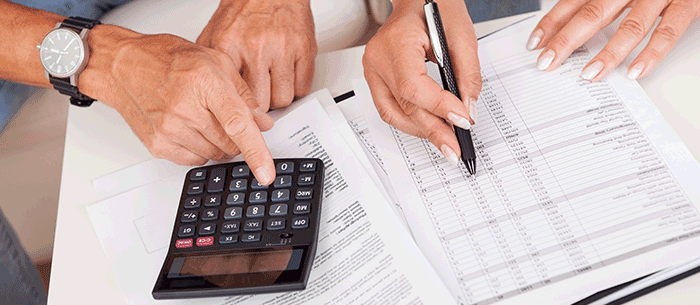 Updated
When families reach the point where it's evident that a loved one needs in-home senior care, one of the first problems to solve is the budget. Whether you need round-the-clock care or hourly companionship assistance, there are several budget items that will collectively comprise the cost of in-home care for elderly parents or loved ones. Before you begin the hiring process, make sure to factor these items into your senior care budget:
1. Your caregiver's expected pay
This is the most important piece of the puzzle because it will take up the majority of your care budget. Senior caregivers are non-exempt hourly employees so you'll need to know how many hours per week your caregiver will work. If you know your caregiver will work more than 40 hours each week, make sure to factor in overtime (paid at time-and-a-half) for those additional hours.
Note: If your caregiver qualifies as a companion or a live-in employee, you'll most likely be exempt from paying overtime. Click here for a more detailed explanation of wage and hour law.
Once you've determined how much you'll need your senior caregiver to work, you can decide on their hourly rate. Check out average rates for in-home caregivers in your area to get an idea of what an expected amount might be. When you're comfortable with that rate, calculate what the weekly or bi-weekly gross wages (before taxes) will be for your caregiver.
2. Household employment taxes
Senior caregivers hired privately (not via a third-party employer, such as an agency) are generally considered employees of the person for whom they are providing care. This means, as a household employer, taxes must be paid to the IRS and the state. For general budgeting purposes, families should expect their taxes to be roughly 10% of their caregiver's gross wages. The breakdown is as follows:
Social Security taxes – 6.2% of the caregiver's gross wages.

Medicare taxes – 1.45% of the caregiver's gross wages.

Unemployment insurance taxes – varies by state, but 2.35% is a good estimate.
Try this budgeting calculator to get a detailed breakdown of your caregiver's wages and the taxes you can expect to pay.
3. Workers' compensation insurance
The majority of states require families to have a workers' comp policy in place, but even if your state doesn't, it's important insurance coverage to have. If your caregiver gets hurt while on the job, workers' compensation insurance will pay for their medical bills and lost wages while they recover.
Without coverage, you can be held liable for these expenses out-of-pocket. And if you live in a state that mandates coverage, you can also be fined for being non-compliant with state law. Prices for a policy can vary from a few hundred to a couple of thousand dollars per year depending on the state you live in. Our workers' comp partner provides free quotes and can write policies for families in nearly every state
4. Deduction for tax breaks
Families that pay their senior caregiver legally may be able to take several tax breaks to offset the costs associated with being a household employer. Common deductions include the medical care tax deduction, utilizing a Medical Flexible Spending Account and taking dependent care tax breaks. Utilizing one, or several, of these tax breaks can save thousands of dollars per year. HomePay has more information on these senior care tax breaks, but it's important to consult a personal income tax expert to get a good idea of exactly how much your family can save.
5. Factor in insurance benefits
Some seniors may have long-term care insurance or Veterans Administration (VA) benefits that will pay for in-home care. The amount of benefits can vary person to person so consult with an expert to see how much coverage you can expect to have.
6. Tax, payroll, compliance and HR-related support service
Taking on the responsibility of privately hiring a senior caregiver comes with managing taxes and payroll for your caregiver, as well as staying on top of federal and state labor laws. Comprehensive services like Care.com HomePay take these items off your plate so you can focus on the quality of care being provided to your loved one.
There will probably be other expenses along the way, but this short list should give you a good idea of what to expect to pay for senior care. Use HomePay as a support system for additional questions about household employment and use the free resources on our website to set you and your caregiver up for a successful working relationship.
Next Steps:
Get started with HomePay!
Already enrolled with HomePay? Log in
First things first—have you hired a caregiver?
If you're seeking a caregiver or a care job, visit Care.com
What type of caregiver have you hired?
Have you already made any payments to your caregiver?
If you've made payments, we'll help you track them and we'll provide your employee with pay stubs.
We'll help calculate the taxes in your state.
What type of caregiver are you planning to hire?
When do you expect to hire someone?
How many hours do you estimate your caregiver will work?
We'll help calculate the taxes in your state.
Great! Now set up your log in to get things going.