6 Common Nanny Tax Mistakes
If you hired a caregiver like a nanny, pet sitter or housekeeper, don't get tripped up by these tax mistakes.
Let's face it, information about taxes and household payroll can be dry and confusing if you're not an accountant. And it's easy to make nanny tax mistakes. But when you pay others to look after your children or elderly family members, take care of your pets or clean your home, knowing the difference between correct and incorrect information is critical.

Here are some of the most common tax mistakes, why they're wrong and why you need to know the difference.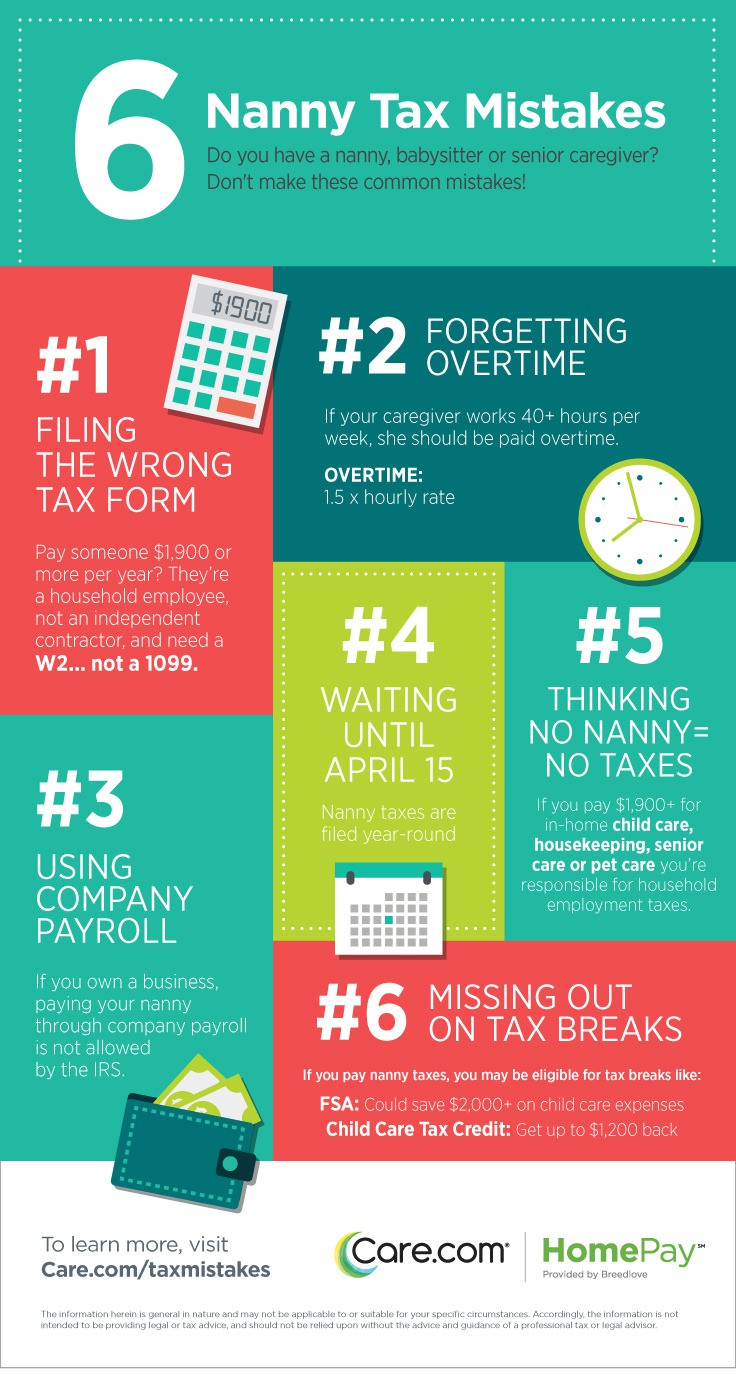 Mistake #1: Filing the Wrong Form
"One of the biggest myths is that you can 1099 your nanny," says lawyer Lisa Weinberger, founder of Mom, Esq. "If you issue a 1099, you are not in compliance with the law."

According to the IRS, hiring a caregiver like a nanny puts you squarely in the category of a household employer and she is your household employee. As her employer, you are required to give her a W-2 and file and pay taxes in accordance with the deadlines set by the IRS and state tax agencies.

Read more about What's Wrong with Hiring My Nanny as an Independent Contractor?

Mistake #2: Not Paying Overtime
How much does your nanny work? Household employees are generally considered "non-exempt," which means they're entitled to time-and-a-half for all hours over 40 in a 7-day workweek. And it doesn't matter whether you consider your employee full-time or part-time.

But what about if you have a live-in caregiver? Most states don't require overtime for live-ins -- though a few states (including California, Maine, Maryland, Massachusetts, Minnesota and New York) have more specific laws.

Learn more about why nannies get overtime and how to handle it.

Mistake #3: Using the Company Payroll
Your nanny is considered your personal employee, not your company's. Yes, it may seem easier to put her on your business' payroll, but it's not allowed. The IRS doesn't see nannies and other household employees as direct contributors to your business. Therefore, these wages can't be reported on a business tax return -- and any tax deductions taken on these wages are illegal.

You need to keep the two accounts separate. Instead of paying your nanny through the company payroll and taking a business tax deduction, you should pay her through your personal bank account and take a personal tax deduction on your federal income tax return.

Mistake #4: Waiting Until April 15th
This is a common mistake families make. They think they can simply handle any nanny taxes when they do their personal taxes at the beginning of the year. Unfortunately nanny taxes work differently. They're filed year-round, with most state taxes filed quarterly.

Follow this nanny tax timeline to keep it all straight.

Mistake #5: Thinking No Nanny Means No Nanny Tax
That's only true if you don't pay anyone to help you in other ways. Do you have a regular dog walker? A weekly sitter for date nights? Does your neighbor's daughter clean your house every week?

If you pay someone more than $1,900 in a year and they come to your house to do a specific job with your supplies (your dog's leash, your cleaning supplies, etc.), the so-called "nanny tax" applies to them as well. Technically, that's a household employer/employee relationship, not an independent contractor, and requires proper tax payment and filing.

Read more about why nanny taxes aren't just for nannies.

Mistake #6: Missing Out on Tax Breaks
When you pay your nanny properly, it opens you up to tax credits you couldn't receive if you paid her off the books. If you or your spouse has access to a Flexible Spending Account through work, you can pay for up to $5,000 of child care costs pre-tax. The savings can add up to thousands of dollars. And you might also be eligible for the Child Care Tax Credit, which can give you up to $1,200 in tax savings each year.

"Using one or both of these breaks can significantly reduce the cost of being a household employer," says Stephanie Breedlove, vice president of Care.com HomePay. "Many families even save money by paying legally because their savings outweigh their tax liability."

For more information, check out: Can Our Family Afford Nanny Taxes?

What do the experts say about nanny tax mistakes? Watch this video to find out.


Tiffany Smith is the senior associate editor here at Care.com. She has written for All You, Time for Kids and the Boston Globe. And as a former babysitter, she knows a lot about fun games to play with kids. Getting them to eat their veggies -- that's a different story! Follow her on Twitter @tiffanyiswrite.

Your Next Steps:

* The information contained in this article should not be used for any actual caregiver relationship without the advice and guidance of a professional advisor who is familiar with all the relevant facts. The information contained herein is general in nature and is not intended as legal, tax or investment advice. Furthermore, the information contained herein may not be applicable to or suitable for your specific circumstances and may require consideration of other matters.

For more tips and advice, check out these Nanny Tax Articles.