5 Questions to Ask Before You Hire a Nanny Tax Accountant
Make sure the person handling your taxes knows just how complex the nanny tax filing can be.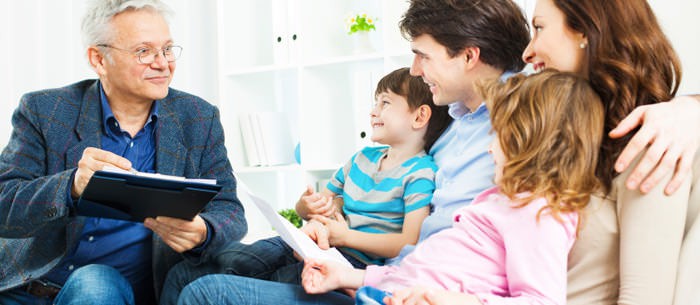 Updated
As we all know, even a small (and innocent) mistake on your tax return can bring a big IRS-sized headache down the road. And paying taxes for your nanny adds a few more complications that you might not want to take on alone. You can work with a payroll company that specializes in nanny taxes, like Care.com HomePay, managed by Breedlove, or hire an individual accountant. If you decide to hire an accountant to help, find someone who has experience with the nanny tax to do the work.
It's a very specific type of tax and not all accountants have experience with it. Find one who knows the complexities of this system and you will save money and hassle in the long run.
According to the government, a nanny is an employee -- not a contractor -- and must be paid that way, with all the ensuing taxes (and a couple of labor laws thrown in there) as well.
So how do you know if your accountant is up-to-date on the latest nanny tax rules and laws?
We asked Andrew Schwartz of Schwartz & Schwartz PC in Woburn, Ma.; Jeri Jones, a certified public accountant (CPA) in Columbus, Ohio; and Robert Wheeler, a CPA based in Santa Monica, Calif., for some advice about choosing the right accountant for you.
They suggested a few quick questions to ask an accountant and noted a few red flags to watch for when seeking financial help. These answers will guide you to the professional or tax prep service that can best help you.
How Many Nanny Taxes Do You Prepare Every Year?
"Look for an accountant with a dedicated staff person or with a decent volume of nanny taxes," says Schwartz, not just a quick turnover firm. This will limit the amount of questions and time researching they will have to do -- which means a smaller fee for you and a smaller chance of errors creeping in.

Ask the accountant or firm what types of people they typically manage taxes for. "The more taxes they handle for other professionals or business owners, the more likely they are to have seen a return like yours," Schwartz explains. These groups are more likely to have nannies and have to pay nanny taxes. And the more nanny tax paperwork a firm encounters, the more experience they will have had when they reach your file.

How do you find out? Just ask them. 50 cases a year with a dedicated staff person is a reasonable expectation, advises Schwartz. The high volume of work will provide preparers with the expertise in the specific laws and regulations of both federal and state nanny taxes.

Do You Have a PTIN number?
The Paid Preparer Tax Identification Number (PTIN) is fairly new to the industry, but is now being required by the IRS to regulate the tax preparation industry. "If they do not [have a PTIN], they probably are not on the up and up," says Jones. To find out if your accountant has one, visit the PTIN Directory.

Are You Familiar with Payroll as Well as Taxes?
"Not every accountant who prepares taxes is familiar with payroll tax filing requirements," notes Jones. With the Schedule H (the form that accompanies your 1040 and is for household employment taxes), it's all about payroll taxes, including filing quarterly state and federal taxes to avoid any penalties and withholding the correct amounts.

If the accounting firm is large, Jones suggests asking who prepares the return. If returns are outsourced (some firms send them to outside accountants), ask about the review process, so you know nothing will slip through the cracks.

Is a Nanny an Employee or an Independent Contractor?
Almost without exception, the nanny you hired to take care of your kids is an employee in the eyes of the IRS. To classify your nanny as an independent contractor is not only incorrect, it's chancy. If your accountant tells you otherwise or suggests another method, it's time to hire someone else.

Should I Bother to Pay the Nanny Tax?
"You might want to ask their position on nanny taxes," says Wheeler. Filing nanny taxes in the proper way is more complicated and some accountants might suggest a few shortcuts. Wheeler suggests posing a simple question: "Do you think I should do it?" Their answer (hopefully an unequivocal "yes") will tell you all you need to know.
When you find the right accountant, be sure to keep in touch about any changes in your house throughout the year, not just during tax season. A good match will help you take care of all the other details that might crop up, says Wheeler, like changing tax laws, new employees or accurate quarterly filing.
To figure out how much you'll be paying in nanny taxes and saving on tax breaks, check out our Nanny Tax Calculator »
Your Next Steps:
* The tax information contained in this article should not be used for any actual nanny relationship without the advice and guidance of a professional tax advisor who is familiar with all the relevant facts. The information contained herein is general in nature and is not intended as legal, tax or investment advice. Furthermore, the information contained herein may not be applicable to or suitable for your specific circumstances and may require consideration of other matters.
For more tips and advice, check out these Nanny Tax Articles.
Get started with HomePay!
Already enrolled with HomePay? Log in
First things first—have you hired a caregiver?
If you're seeking a caregiver or a care job, visit Care.com
What type of caregiver have you hired?
Have you already made any payments to your caregiver?
If you've made payments, we'll help you track them and we'll provide your employee with pay stubs.
We'll help calculate the taxes in your state.
What type of caregiver are you planning to hire?
When do you expect to hire someone?
How many hours do you estimate your caregiver will work?
We'll help calculate the taxes in your state.
Great! Now set up your log in to get things going.