A podcast for working parents who are trying to balance it all while caring for the people they love — including themselves.
Brought to you by Care.com, Equal Parts is a podcast for working parents who are trying to balance it all while caring for the people they love — including themselves. Being a working parent is hard. But you do it for the ones you care for, because they're the ones you care most about. You can never be prepared for everything that is thrown your way — whether at work or at home. But, the Equal Parts podcast will try to make this a little easier for you. We will talk to experts, authors, and parents who will share their insights, advice, and tips on how to navigate parenthood and professionalism — at the same time.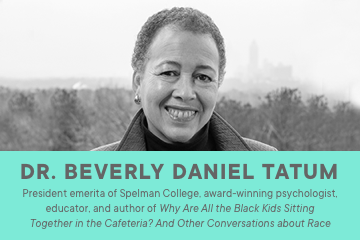 Talking to kids about race and racism
It's not easy talking to kids about subjects that make adults feel uncomfortable — or that adults might not fully understand themselves. But when it comes to race and racism in America, it's imperative that we start listening, learning, and having these conversations with our kids and with each other. Dr. Beverly Daniel Tatum is president emerita of Spelman College, an award-winning clinical psychologist, a national authority on racial issues in America, and author of the best-selling book,
Why Are All the Black Kids Sitting Together in the Cafeteria? And Other Conversations about Race.
In this special episode, Dr. Tatum joins Care.com CEO Tim Allen for a discussion about
Talking to Kids About Race and Racism
She offers guidance on how to have important — often difficult — conversations with kids of all ages about race and racism that are empathetic, constructive, and compassionate.
Listen to this episode to learn:
The harm we create when we 'shhh' our kids' questions about racial difference
How to teach kids how to be actively anti-racist, and ways to discuss racial injustice with children as young as two or three
Why you should feel empowered to ask teachers and caregivers questions about how they're communicating fairness and difference
The importance of teaching our kids — and ourselves — how to live in a multicultural, multiracial environment
How to answer honestly when kids ask questions about police brutality and protests
Dr. Tatum's "3 F Strategy" (felt, found feel) to interact with adults who don't share your views
The negative effects of using racial microaggressions
Resources to initiate age-appropriate discussions about race with kids, including Social Justice Books and Common Sense Media
Emily Paisner, Host, Equal Parts
Emily is "equal parts" marketer and mom. By day she leads marketing for Care@Work by Care.com, advocating for employees of the world's biggest companies to get the care they need. On nights and weekends, she's focused on her other role: Chief Everything Officer. You can find her cheering loudly on the sidelines of the soccer field, in the bleachers at the swimming pool, or trying to maintain some sort of order at home. Her greatest joys: her kids, Jacob and Lillian, and step-daughter, Erica. And, of course, her husband, Jon, deputy CEO, full-time working parent, and kickass dad.