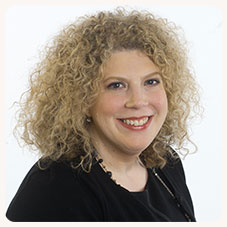 Erica Landry Scheik
Chief Brand Officer
"There is nothing more important than how we take care of each other. It is a truly universal experience that transcends boundaries, bringing resonance and meaning to our lives."
As Chief Brand Officer, Erica is driven by the mission to help families manage their critical care needs and to advocate and promote caregiving as a respected role in our economy. In her role, Erica oversees all aspects of the Care.com brand strategy, including brand identity and design, strategic product positioning, public relations and creative, including print, television, interactive and social initiatives.
Erica has more than 25 years of experience in brand and advertising and has helped shape brand experiences for several Fortune 500 companies, identifying offline and online opportunities that engage audiences and inspire action and conversation. Prior to joining Care.com, she has held senior roles at Jack Morton, Staples and Digitas and previously worked at The Atlantic and Houghton Mifflin.  Erica has served on the Red Cross Board of Directors and the Ad Club in Boston. Erica holds a B.A. in English with honors from the University of Massachusetts Amherst and received a Diploma in English with Merit from the University of Swansea, Wales, UK.