For the dog owner who is always lovingly seeking out dog-friendly hotels, top-quality pet sitters and the very best dog toys, it's no stretch to begin baking homemade dog treats for your pup, too.
Making DIY dog treats is something you can feel good about, as well. Many store-bought treats contain ingredients that aren't particularly good for dogs, things like food coloring and toxic preservatives. By contrast, homemade dog treats that you whip up yourself can be chock-full of healthy ingredients like veggies, oats, eggs and peanut butter, all of which you can feel good about feeding your best friend.
Ready to learn how to make dog treats for your best pooch? Well, grab your bone- and paw-shaped cookie cutters because here are 26 of our favorite, easy dog treat recipes.
1. Pumpkin and cashew butter dog biscuits
Pumpkin is high in fiber, and it's easy to get some into their diet with this pumpkin and unsalted cashew butter dog biscuits recipe — no carving necessary. Just combine pumpkin puree and a few more ingredients, bake and then drizzle with yummy cream cheese and cashew butter "frosting."
2. Chicken and biscuits dog treats
Thrill your dog and use up those chicken scraps by making these chicken and biscuits dog treats from Two Healthy Kitchens. Combine chopped, cooked chicken (feel free to include skin and cartilage bits that aren't so tasty for humans), flour, Greek yogurt, water and an egg. Combine the ingredients in a bowl and drop them onto a baking sheet. Bake until they're golden brown.
3. Sweet potato dog treats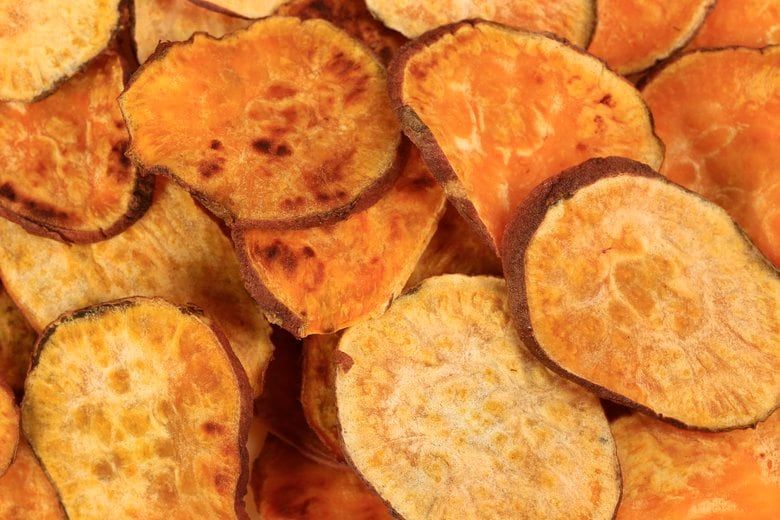 If you want to fill your dog's tummy with healthy vitamins, minerals and fiber, this homemade sweet potato dog treats recipe from Bren Did is for you. In fact, it's so easy that we probably shouldn't even consider it baking. Simply chop a sweet potato into 1/4-inch slices and bake. And if you want your dog's treats to be organic, simply buy organic sweet potatoes (or yams).
4. Dog treats for bad breath
We love canine kisses, but sometimes doggie breath can be pretty awful. If your pup's breath needs some freshening, whip up some of this no-bake fresh breath frozen yogurt from iHeartDogs. It's just Greek yogurt with peppermint, frozen. Next time you get stinky kisses, reward your dog with this treat.
5. Pumpkin peanut butter treats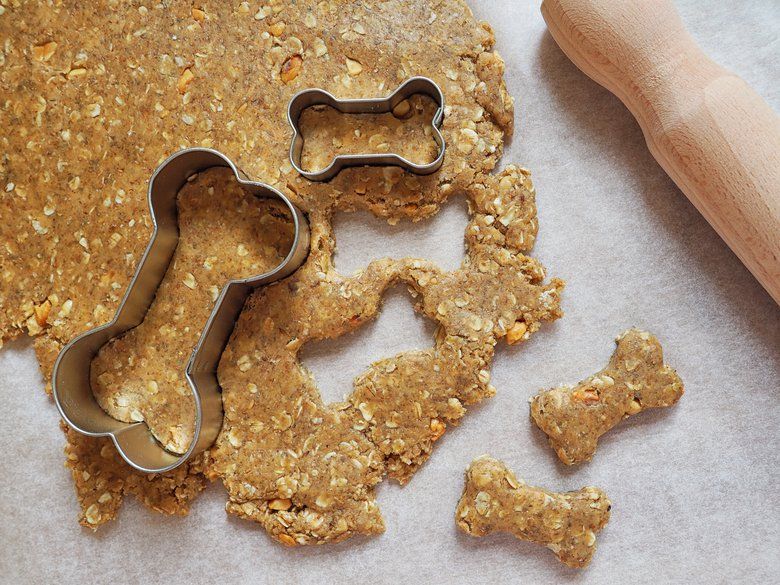 If your dog loves the taste of fall (or you love the smell of pumpkin baking), this recipe for pumpkin and peanut butter treats from It Doesn't Taste Like Chicken is a good choice. Simply combine oats, pumpkin puree and peanut butter in a food processor. Roll out the dough, cut into fun shapes and bake.
6. CBD dog treats
CBD and CBD oil can be found in all kinds of human products these days, and while there's no definitive scientific data that CBD can benefit dogs, there is anecdotal evidence that suggest it can be helpful in treating pain and inflammation, controlling anxiety and seizures and even stimulating appetite in animals. So it's no surprise there are recipes for homemade CBD dog treats, like this one from The Starving Chef. Ingredients include pet-safe CBD oil, pureed pumpkin, quick cooking oats, peanut butter, coconut oil and beef broth.
Please note: Before giving your pet CBD oil or other products with CBD, always consult your vet first.
7. Good dog treats
With a sweet name, this good dog cookies recipe, also found on Allrecipes, is perfect for the good (or mostly good) pup in your life. To make these treats, you'll need whole wheat flour, nonfat dry milk powder, a beef bouillon cube, brown sugar, one egg, vegetable oil and some boiling water. Roll out the dough, cut out cookies and bake for 30 minutes.
8. Homemade frozen dog treats with apple
You love popsicles on a hot summer day, and your dog will, too. This easy frozen apple dog treats idea from Irresistible Pets is perfect for cooling down during the dog days of summer. All you have to do is blend apples and plain Greek yogurt with a bit of water. Pour the mixture into an ice cube tray and freeze.
9. Peanut butter banana dog treats
These peanut butter banana dog treats from Pook's Pantry are bound to become a doggie favorite. Combine peanut butter, banana, oats, egg and a little flour. Mix the ingredients, roll the dough, cut into shapes and bake.
10. Bacon dog treats with cornmeal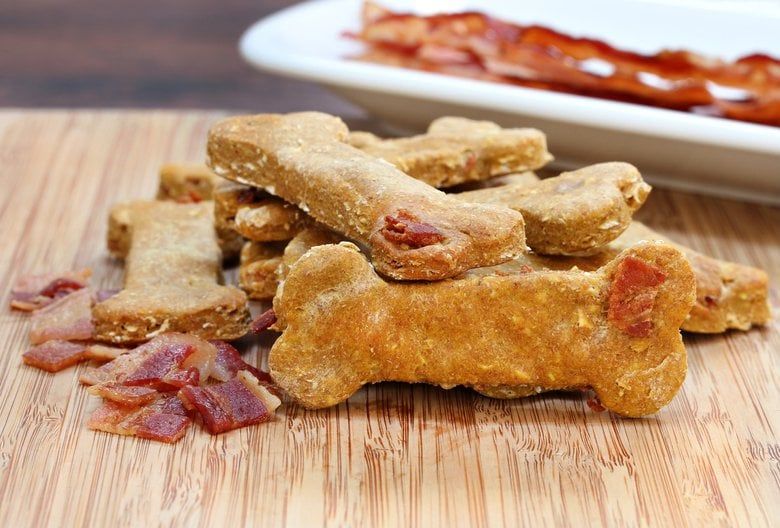 What dog (or human, for that matter) doesn't love bacon? This bacon cornmeal dog biscuits recipe from Ann's Entitled Life relies on bacon grease to give a canine-friendly kick to cornmeal treats. After you cook Sunday breakfast, put the grease aside for your pup. Combine flour, cornmeal, bacon grease, olive oil and some water. Roll the dough, cut into shapes and bake the treats for 30 minutes.
11. No-bake peanut butter balls
If you're looking for a super-simple recipe, you're in luck. To make these no-bake peanut butter and oat balls, via Cookpad, combine creamy peanut butter with water, cinnamon and oats. Roll the mixture into balls and chill in the refrigerator.
12. Salmon and sweet potato brownies
These salmon and sweet potato brownies from Kol's Notes have a soft, moist texture, making them a perfect treat for elderly dogs or others who can't crunch up a crispy dog biscuit. The recipe calls for canned salmon, sweet potato (without skin), coconut flour and eggs and needs to bake for an hour. And if you also have a cat in the house, you'll want to keep an eye on these fishy treats while they're cooling. Trust us on that.
13. Peanut butter dog treats with honey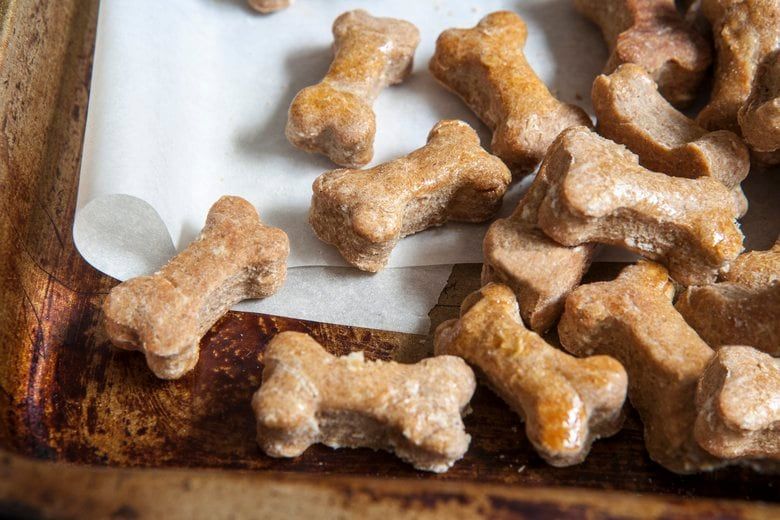 This peanut butter dog treats recipe from The Cookie Rookie sounds so tasty, you may be tempted to lick the bowl. We wouldn't blame you. Combine whole wheat flour, peanut butter, honey, an egg, baking powder and some water. Roll out the dough, cut cookies and bake for 20 minutes.
14. Frozen meat treats
These cool frozen meat treats from Offbeat Home & Life won't sound as appealing to you, but your dog will love them. Combine your choice of cooked meat, plain yogurt, mashed carrot, parsley and olive oil in a bowl, and then freeze in an ice cube tray. Your dog will fully support you tucking away dinner scraps for this recipe.
15. Banana almond dog treats
This banana almond dog treat recipe from Wiggleworthy is a great gluten-free alternative to many store-bought snacks. Combine the ingredients and bake in your favorite pet-themed silicone mold.
16. 2-ingredient dog biscuits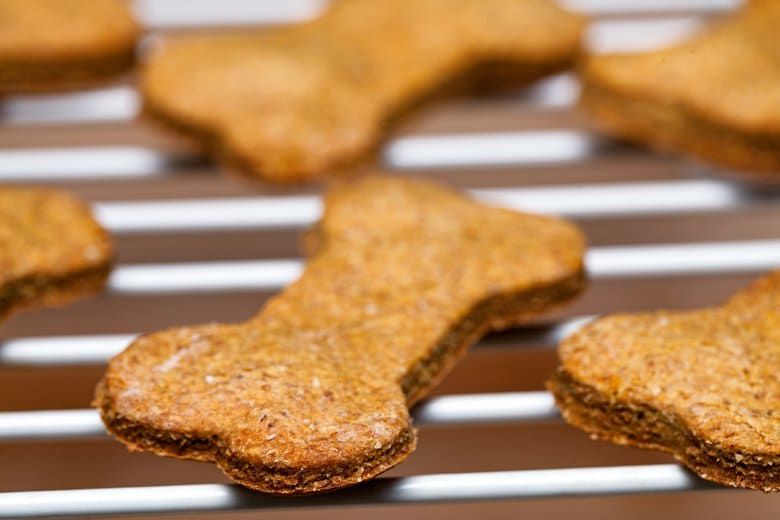 You'll love this two-ingredient dog biscuits recipe from The Midnight Baker when you're looking to whip up dog treats in a snap. This recipe calls for two jars of pureed meat or vegetable baby food, as well as whole wheat flour spelt, wheat germ or rolled oats (or a combo of all three). Combine, roll and cut the dough, and bake for 20 minutes.
17. Martha Stewart's homemade dog biscuits
If your dog likes the finer things in life, prepare this homemade dog biscuit recipe crafted by the crew at Martha Stewart. You'll need flour, wheat germ, brewer's yeast, salt, canola oil and chicken stock.
18. Carrot dog biscuits
Dogs need vegetables, too, and it's easy to get some into their diet with this carrot dog biscuits recipe from Dukes & Duchesses — no shredding required. Just combine pureed carrot baby food, eggs and flour, and bake for 25 minutes.
19. 4-ingredient dog treats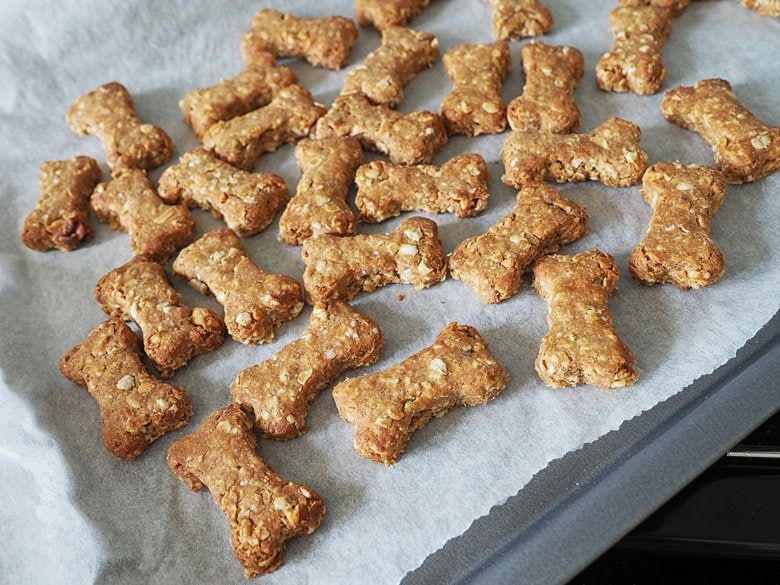 This oatmeal-based, four-ingredient dog treats recipe from Add a Pinch is perfect if you want to start out nice and easy. All you need is rolled oats, salt, one egg and low-sodium beef or chicken broth. Combine the ingredients, shape them and bake.
20. Frozen fruit dog treats
Here's another low-key recipe that's perfect for (pant-pant) warmer weather — yogurt and berries dog treats, via Gemma's Bigger Bolder Baking. Mix plain yogurt with some diced fruit. Fill candy molds or an ice cube tray, and freeze for your pet.
21. Minty fresh breath dog treats
The folks at The Produce Moms must know a thing or two about not-so-great dog breath. After all, check out their recipe for minty fresh breath dog treats. Yasss! You'll mix plain Greek yogurt, mint, parsley, green apple and coconut oil. Then blend and freeze in trays or a mold overnight.
22. Gingerbread dog biscuits
Love the scent of gingerbread baking? Bring it into your home year-round with this gingerbread dog biscuits recipe, also from Dukes & Duchesses. Combine whole wheat flour, ground ginger, cinnamon, vegetable oil, molasses and water to make these treats. Let the mixture stand for 15 minutes, and then roll the dough, cut the cookies and bake.
23. 3-ingredient vegan dog treats
If your doggie has dietary restrictions or you keep a vegan kitchen, these 3-ingredient vegan dog treats from The Plant Philosophy are exactly right. Combine rice or oat flour, bananas and smooth peanut butter. Chill the dough for 20 minutes, roll it, cut shapes and bake for 30 minutes.
24. No-bake pumpkin apple dog treats
When it's hot out or the oven's busy making your dinner, try mixing up these no-bake pumpkin apple dog treats, via Show Me the Yummy. Combine pumpkin puree, applesauce, peanut butter, oats, plain yogurt and (OMG) a strip of bacon. Roll into balls and refrigerate.
25. Cheesy bone dog treats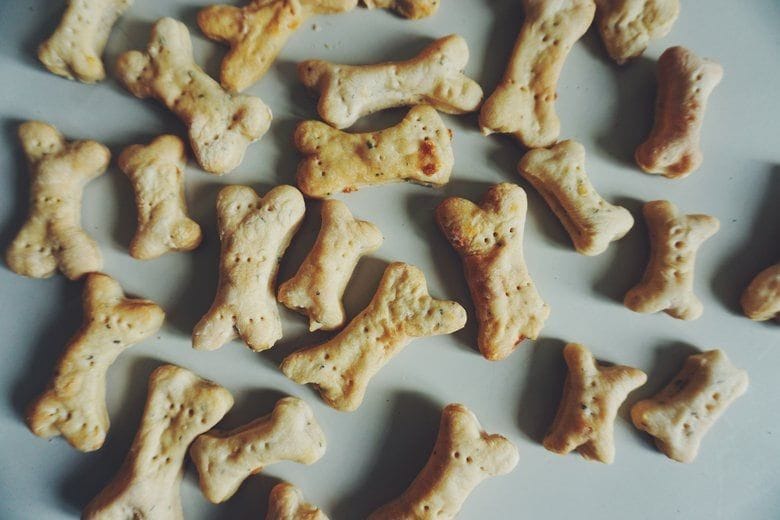 Some dogs absolutely love cheese. If your pup can handle dairy, these cheesy bone dog treats from Golden Woofs are a great snack. You'll need flour, shredded cheese, oil and water. Combine the ingredients, roll the dough, cut shapes and bake. Then watch your dog rejoice.
26. Cornmeal doggie biscuits
This recipe for homemade cornmeal doggie biscuits, via Allrecipes, is a bit more involved (fancy!), but your pooch will love the flavors of cornmeal, peanut butter and vanilla. You'll also need two types of flour, rolled oats, canola oil, eggs and water.
Some of these recipes make quite a few treats. Be sure to store them properly so they don't go bad before your dog has had the chance to enjoy all your hard work. Most of these doggie snacks can be kept in an airtight container in the fridge for about a week, and they'll last even longer than that in the freezer.