By Pris Blossom
Every fall from September 15th through October 15th, it's National Hispanic Heritage Month — a time to celebrate the culture and achievements of Latinx individuals and communities hailing from Latin America. For those of us who are part of the community, it's a nice time to reconnect with our heritage — especially with our children. For others, it's a welcome opportunity to broaden horizons and teach kids (and their grown-ups) about lesser known aspects of our cultura.
While we still refer to the month as Hispanic Heritage Month, there's a push from some to rebrand to Latinx Heritage Month (in order to sever the colonial associations and re-center the focus more on indigenous and Afro-Latinx communities). Keep this in mind as you research more about what this month means and how to celebrate it in a fun and respectful way.
Here you'll find a number of ideas to get you started festejando National Hispanic Heritage Month (NHHM) for kids:
1. Fill your bookshelves with Latinx authors
While kiddos might not be entirely ready to read the works of Latinx authors like Isabelle Allende, Gabriel García Márquez and the like, they can certainly read other books that explore our culture. Challenge children to find Latinx authors on library or bookstore shelves, and then make a list of books to check out or buy and read at home. 
Kids can learn about important Latinx figures by reading:
Or simply enjoy other books by Latinx authors, such as:
2. Brush up on your Spanish
While not all Latinx folks speak Spanish, there's no doubt that the language heavily influences much of our culture. Plus, Spanish is the second most common language spoken in the U.S., so it's really a win-win for kids to learn at least some conversational skills.
Encourage kids to work on becoming bilingual (or even multilingual):
Sign up for language learning apps like Duolingo, more immersive programs like Rosetta Stone or classes with a live instructor via sites like Preply.
Hire a bilingual babysitter or bilingual nanny who's willing to practice conversational Spanish with kids.
For kids and their friends, it could be fun to even start up a Spanish Language Club after school for practicing their skills.
3. Visit a Latinx museum or exhibition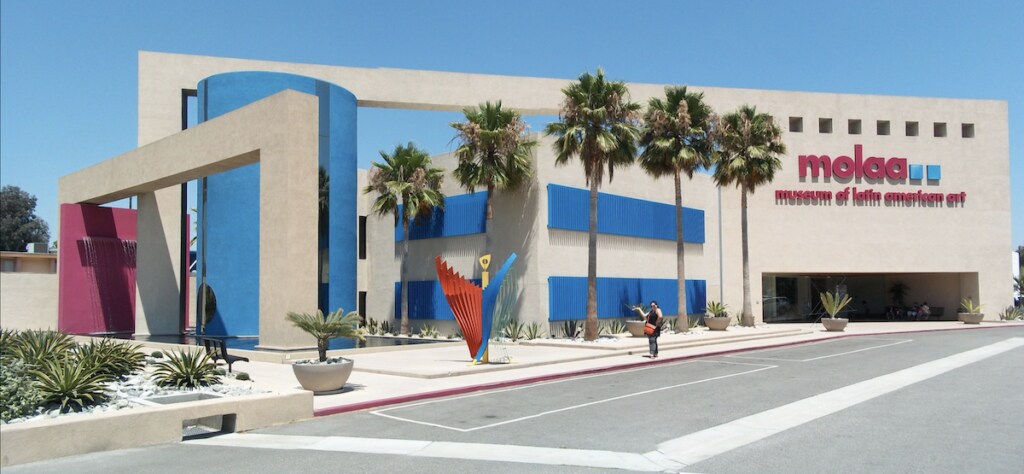 A trip to a museum is another excellent way to learn more about Hispanic and Latinx culture. Hop onto Google and see if there are any Latinx-centric museums in your neighborhood like Denver's Museo de las Americas, the Museum of Latin American Art in Long Beach, the National Museum of Mexican Art in Chicago, NYC's El Museo del Barrio, and El Museo Latino in Omaha.
Even if you don't live near one of these museums, many art and history museums will still have exhibitions on display specifically for NHHM 2021. Look into the museums near you. Then take a trip with the kids so they might learn more about our famous artists like Frida Kahlo and Ana Mendieta, and find out more about our culture on the whole.
4. Try a fun DIY craft (and then TikTok it!)
Crafting is always a fun, immersive way to get to know more about a culture — and artesanías are a huge part of ours! If you're not sure where to start, check out Kathy Cano-Murillo's site The Crafty Chica. A popular Mexican-American crafter, author and influencer, Cano-Murillo offers DIY instructions for a number of crafts, from painted tins cans (image above), faux pan dulce (image below) and Mexican embroidery murals to stamped clay plates, Day of the Dead ofrendas and more.
You can even have kids follow along and make TikToks out of their Hispanic Heritage activities and tag the Crafty Chica herself! If you need additional help, Cano-Murillo also offers workshops and has plenty of books (many of which are for craft making) available for purchase so you can learn even more unique Latinx-inspired crafts!
5. Make a Latinx playlist to listen to
No doubt music is another special way to connect with a culture, and kids will jump at the chance to discover playlists and create their own featuring Latin American and Latinx musicians during NHHM. Ask kids which medium they prefer to use — Spotify has some easy playlist-making capabilities, but they can also make one via YouTube or other services (or if you want to go old school you can teach them how to make mixtapes like when we were their age!)
Next, help them look at various artists, keeping their musical preferences in mind. From Chavela Vargas and Celia Cruz, to Bad Bunny and J Balvin, to Gloria Estefan, Amara La Negra and Cardi B, they'll come up with some creative mixes to listen to all month long — and beyond.
6. Take a Latin American dance lesson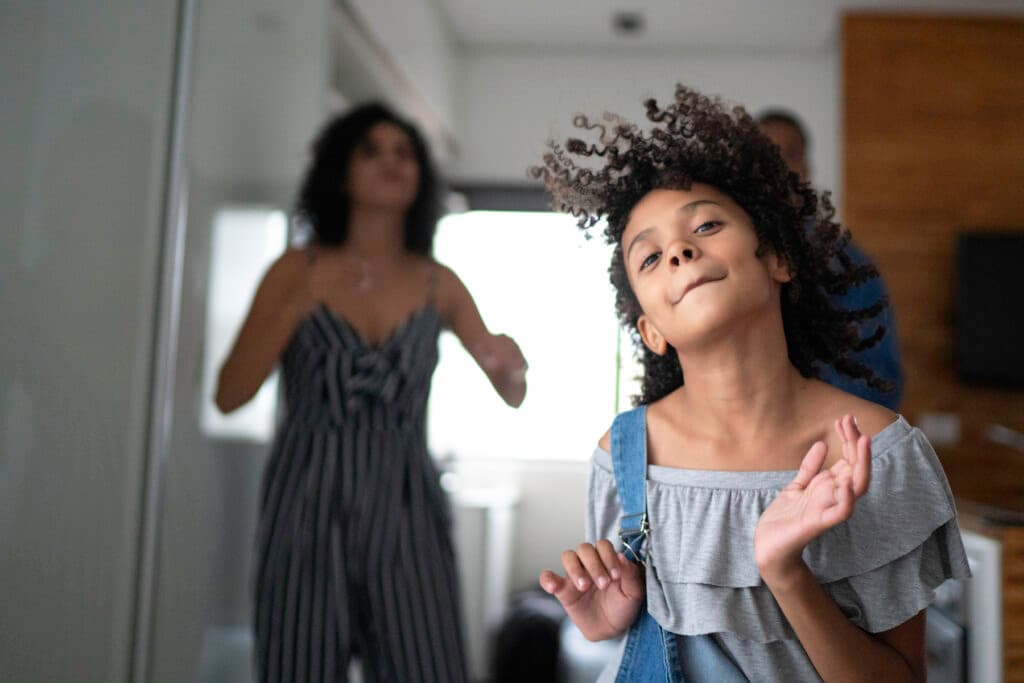 Once a playlist is made, there's an excellent chance kiddos might begin to feel their own hips sway to the beat. Not surprising as dance is a huge part of our culture.
Many folks tend to think of salsa first as a Latinx dance — and they wouldn't be wrong. Salsa is certainly one of the most popular styles, and odds are you won't struggle to find a salsa class near you. But if you've got more options, consider checking out other styles as well, including merengue, cumbia, bachata, bomba, and of course, tango. No matter which style you choose to explore, this is a solid way to celebrate Hispanic Heritage Month for kids.
7. Watch a Latinx film or TV show
Television and movies have always been great mediums for getting a glimpse into the lives of others, and during NHHM, you can totally put your focus on Latinx and Latin American shows and films to do just that.
Binge a family-favorite like the "One Day at a Time" reboot, about a Cuban-American family that offers plenty of laughs. Or host a movie night with friends with Latinx films like Disney's "Coco" and "Selena," plus Latin American films such as "La Leyenda de la Llorona" and "Anina." Afterward, have a discussion about anything you may have learned about the particular culture(s) depicted.
8. Try a new recipe from a Latin American country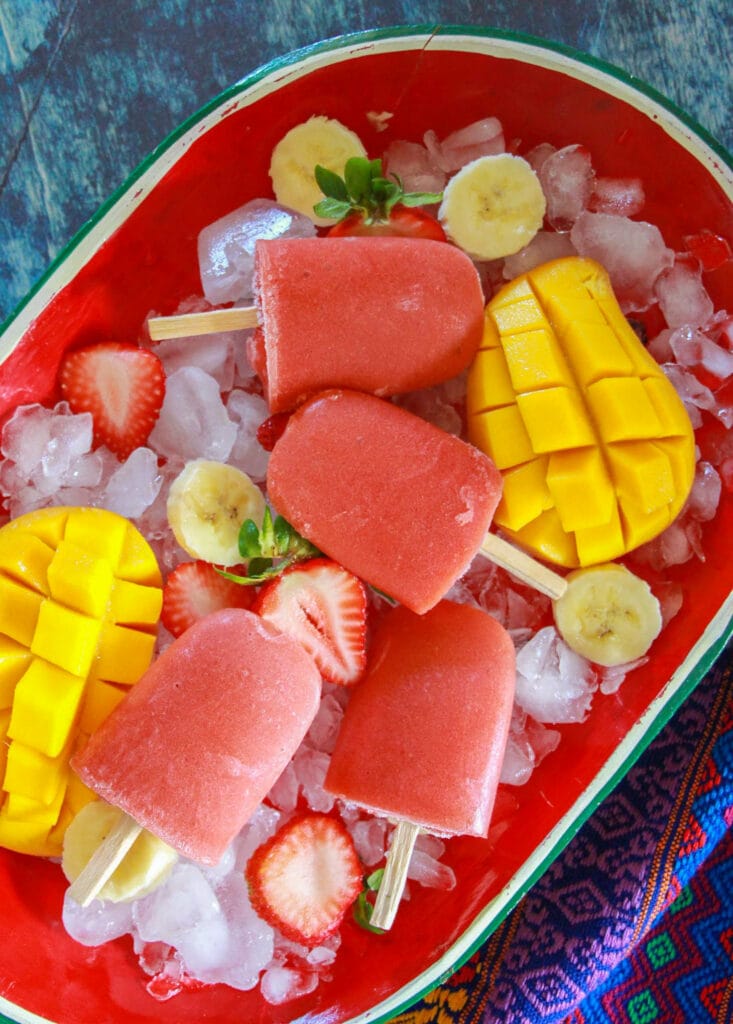 What better way to find what you love about other cultures and countries is there than by tasting the local cuisine? While it may not always be possible to actually fly out to taste some dishes, you can always go online or grab a cookbook and test out a new recipe.
Try Mexican cooking blogger Dolores Wiarco Dweck of Lola's Cocina's kid-approved recipe for strawberry, mango, banana paletas — Mexican-style sweet treats the whole family will love. Lola also shares plenty of other easy-to-follow recipes like elote (Mexican street corn and agua fresca de avena (a style of oat milk). Make sure to check out her workshops (including virtual) for additional instruction (you can even find some past ones on YouTube).
If kids want to explore beyond Mexican cooking for NHHM, feel free to scour the web for other ideas, like bean and cheese pupusas (a staple in Salvadoran and Honduran cooking) or pan de bono (Colombian cheese bread). If you'd much prefer to just sample different foods, however, feel free to order out from various Mexican, Caribbean, and Central and South American restaurants in your neighborhood.
9. Visit your local library
While libraries are excellent places to go and pick up new books, they are often hosts to a number of other fun NHHM activities for the whole community. Visit your local library and check out their HHM display for reading suggestions, and ask if they are offering any additional HHM programming.
For example, at Great Barrington Public Libraries in Massachusetts, children are welcome to come by and pick up an HHM take-home craft box while Northfield Public Libraries in Minnesota will host a whole day of in-person events for HHM. And over at the LA County Libraries, folks are welcome to attend virtual events and download online tutorials for DIY crafts. Pop into your local library this month to find out what's happening in your neighborhood and for more ideas on celebrating National Hispanic Heritage Month for kids.
Priscilla Blossom is an independent writer and journalist focusing on the intersections of parenting, travel, arts and culture, identity, and health. Her work has appeared in the New York Times, Yahoo, Washington Post, Parents, Lonely Planet, The Advocate, and more. She is part of the Anti-Bias Review Board at Dotdash, the Advisory Board at The Points Guy, and spends her time off practicing yoga, making art, and exploring Colorado with her son.