When an older loved one starts to show signs of impaired mobility, it may be time to consider the accessibility of their home. One of the spaces in which they're the most vulnerable: the bathroom. To protect your loved one, you might want to invest in a shower chair, which can minimize the risk of injury on a slippery surface — something that's incredibly important, since more than one in four Americans over age 65 suffer a fall each year, according to the Centers for Disease Control and Prevention (CDC).
An older adult may need a product that can help them get in and out of the shower, maintain their balance or simply provide a place to rest, notes Susan Adamowicz, OTR, an occupational therapist at McLean Health Center in Simsbury, Connecticut. "Having a seat provides them the support that can allow them to continue participating in bathing while sitting," she says.
Whether you're just starting to research or you're ready to buy, here are the best shower chairs on the market.
Best shower chairs for independent seniors
1. Clevr Teak Wood Folding Shower Seat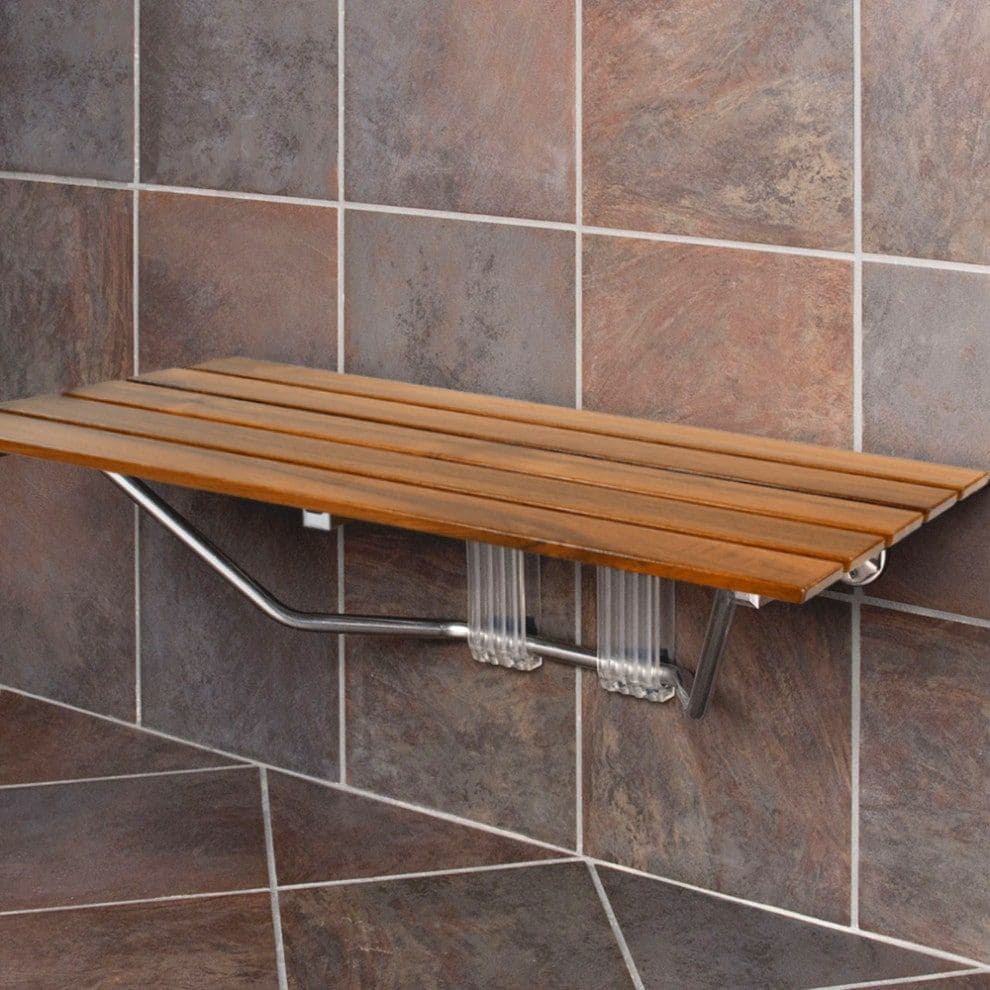 Some people need a seat daily, while others may feel comfortable knowing that they have one for when they aren't feeling their best. Even some tasks, like feet washing, may require a minute of sitting. This teak seat is one of the best looking. It folds away, and when it's down, seniors may be able to rely on the tiles if necessary. This can also be paired with a bar for extra safety. 
Where to buy: Clevr Teak Wood Folding Shower Seat ($154, Amazon)
2. Carex Bath Seat and Shower Chair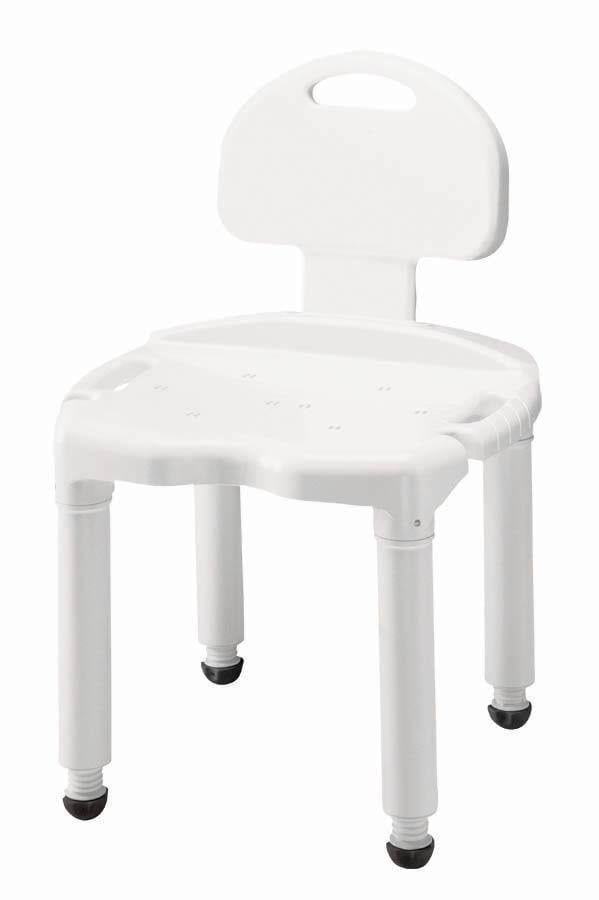 Reviewers of this chair say that it is sturdy and built to last. The $44 chair is a good fit for a senior who may be at risk of falling in the shower but still wants to remain independent. Hafiz finds this chair to be a good option for those who need the minimum amount of support. 
Where to buy: Carex Bath Seat and Shower Chair ($44, Amazon)
3. OasisSpace Heavy Duty Shower Chair
When other chairs don't fit, this $60 space-saving shower chair can do the trick. It would be better suited for a smaller person because of how narrow it is or a senior who wants the reinforcement of a chair if they are feeling too weak to shower some days. It also comes with a bonus grab bar for the shower wall.
Where to buy: OasisSpace Heavy Duty Shower Chair ($63, Amazon)
4. NOVA Shower and Bath Chair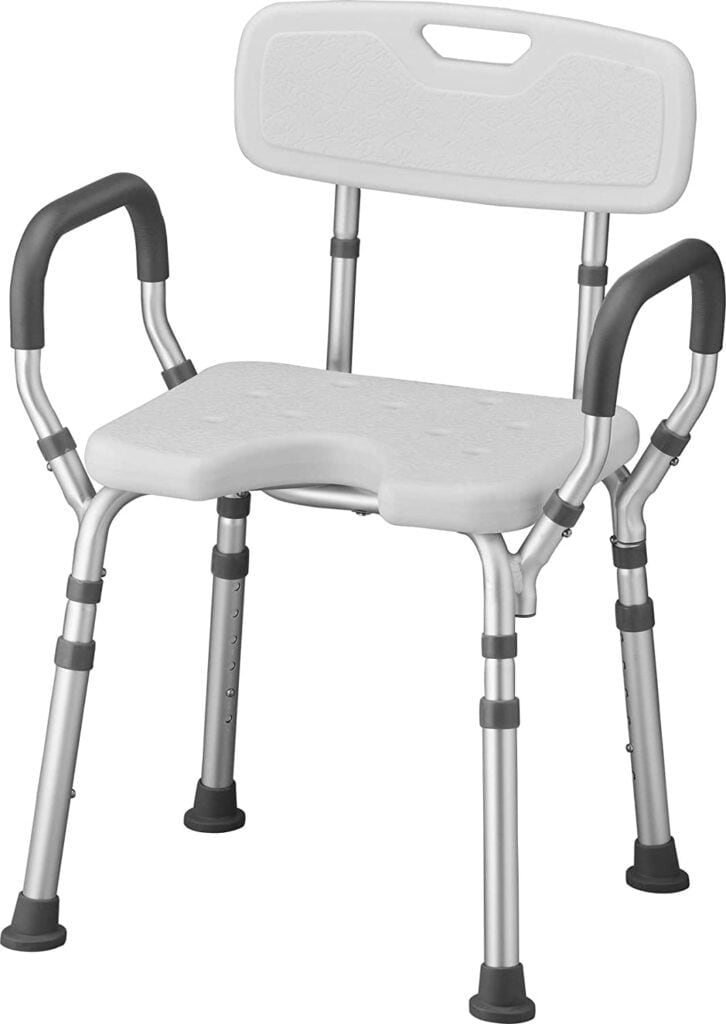 The NOVA chair is probably one of the most basic and what is most familiar to someone looking for a chair. At 8.4 pounds, it is also one of the lightest chairs one could own, so it would be easy for a more independent senior to set the chair up themselves.
Where to buy: NOVA Shower and Bath Chair ($70, Amazon)
Best shower chairs for seniors who need extra support 
5. Drive Medical RTL Handicap Bathroom Bench
According to Hafiz, "A bench is best for someone who can't step over a tub. It allows them to sit on the chair and then swing their legs over."
This bench sits outside of your tub and makes it easy to get in if you have an injury or are ever unsteady stepping over the edge. One owner warns that her floor got wet, but that can easily be remedied with a bath mat to prevent slipping when you're out of the shower. 
Where to buy: Drive Medical Handicap Bathroom Bench ($40, Amazon)
6. Carousel Sliding Transfer Bench with Swivel Seat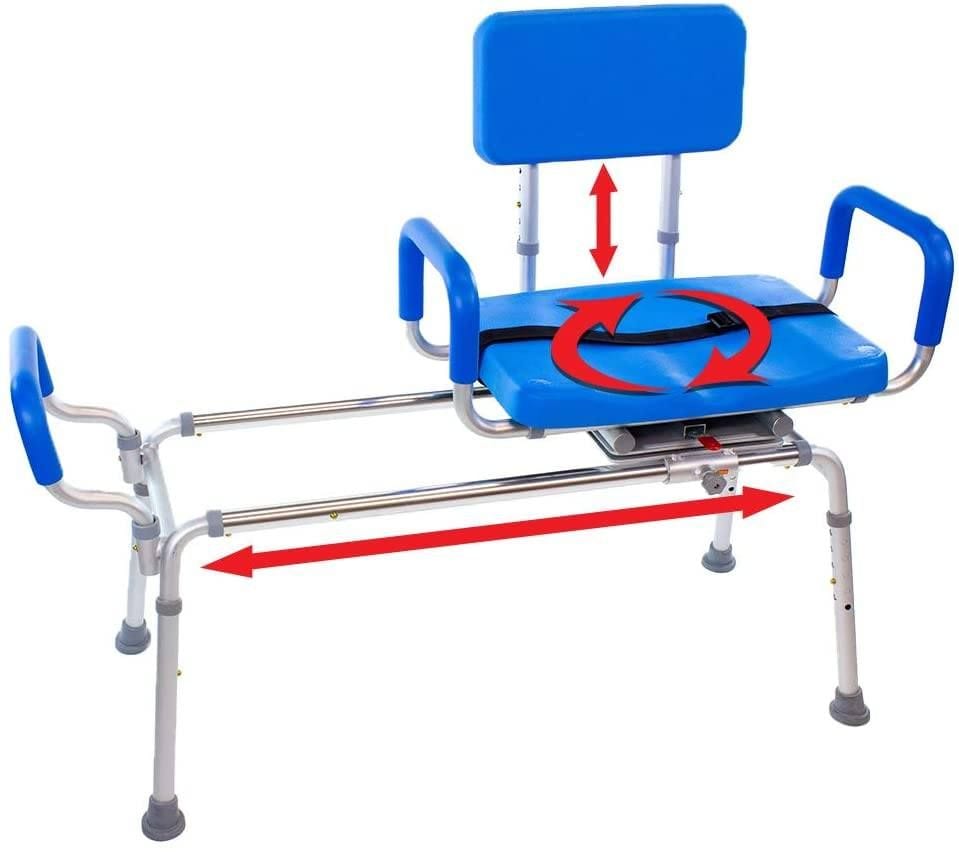 This chair is professional grade — similar to what you'd see in a medical setting. While it isn't necessary to spend over $100 for a chair, this may still be a preferred choice for someone who is paralyzed or who has limited vision or control over their movement. It features a padded seat and a belt to keep someone in place, and the swivel is helpful for placing a person into it.
Where to buy: Carousel Sliding Transfer Bench with Swivel Seat ($298, Amazon)
7. DMI Tub Transfer Bench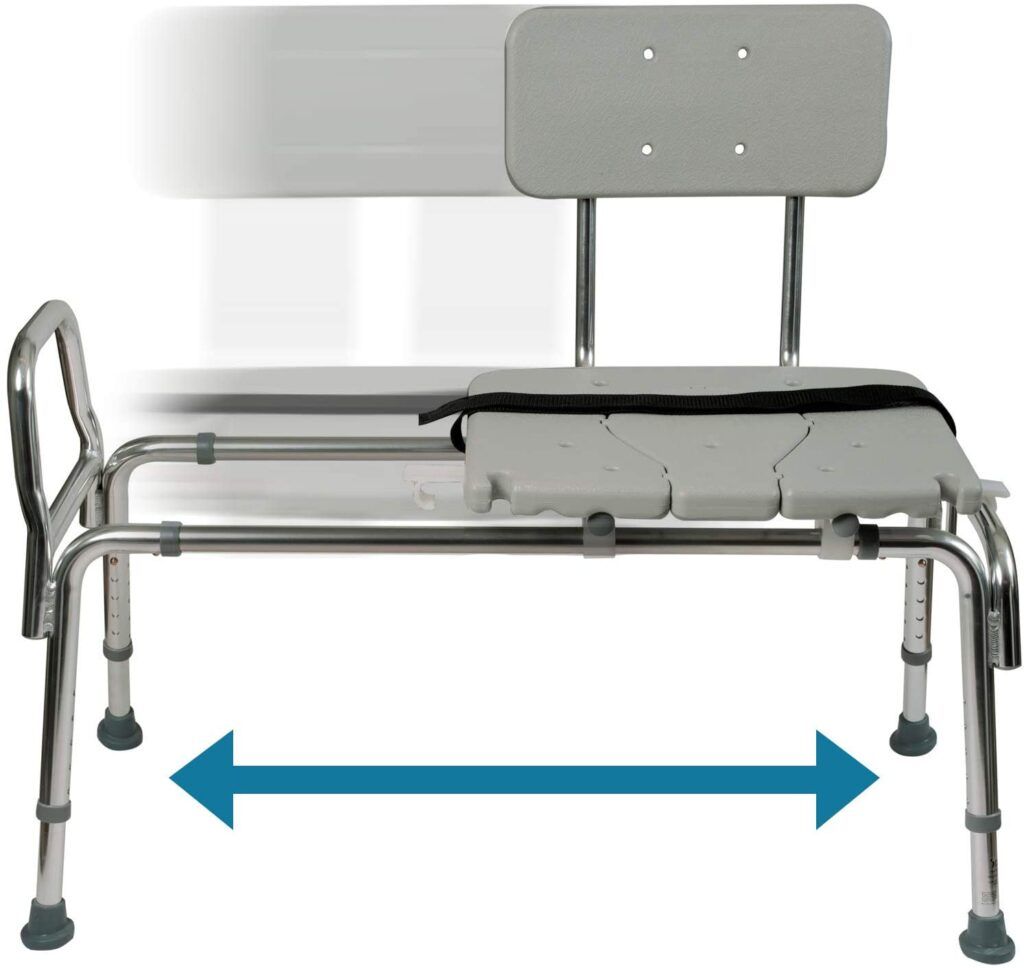 This bench and shower chair requires no tools for assembly and can be adjusted high enough for an easy transfer from a wheelchair to the bathtub. It has a safety strap and a sliding seat, which is ideal for someone who needs assistance in the shower.
Where to buy: DMI Tub Transfer Bench ($86, Amazon)
Consider a handheld shower head
Whether you choose a shower chair, bench, or stool, a handheld shower head is a relatively inexpensive investment (most cost around $50) that can make a big difference for people with impaired mobility. "They can bring the water to them rather than just sitting and having it bombard them from a stationary shower head," says Scott Trudeau, PhD, OTR, a productive aging practice manager with the American Occupational Therapy Association.
The bottom line
If you're not sure which type of shower chair will work best, see if a local senior center or agency has an equipment loan program that will let you test a certain style in the space before committing, advises Trudeau. There are also many options available online, and websites usually provide the specific dimensions so you can measure it for your shower or tub.
Additional reporting by Michelle Felton