Not everything is extra-fun during pregnancy, but Halloween? That's one holiday any expecting parent can get behind. Is it because of the candy? OK, fine, the candy is pretty great. But the real reason to love Halloween when you're pregnant is the super-creative, super-cute pregnancy costume ideas during this time.
Expecting but aren't sure how to dress up your bump this Halloween? Here are 26 of the best pregnant costumes out there, including many you can DIY yourself.
1. Unicorns
What does a mama unicorn give birth to? A baby unicorn, of course. But beware of the horn that pokes through!
2. Winnie the Pooh
Too much honey or just a little baby? Either way, that Winnie the Pooh belly is adorable.
3. COVID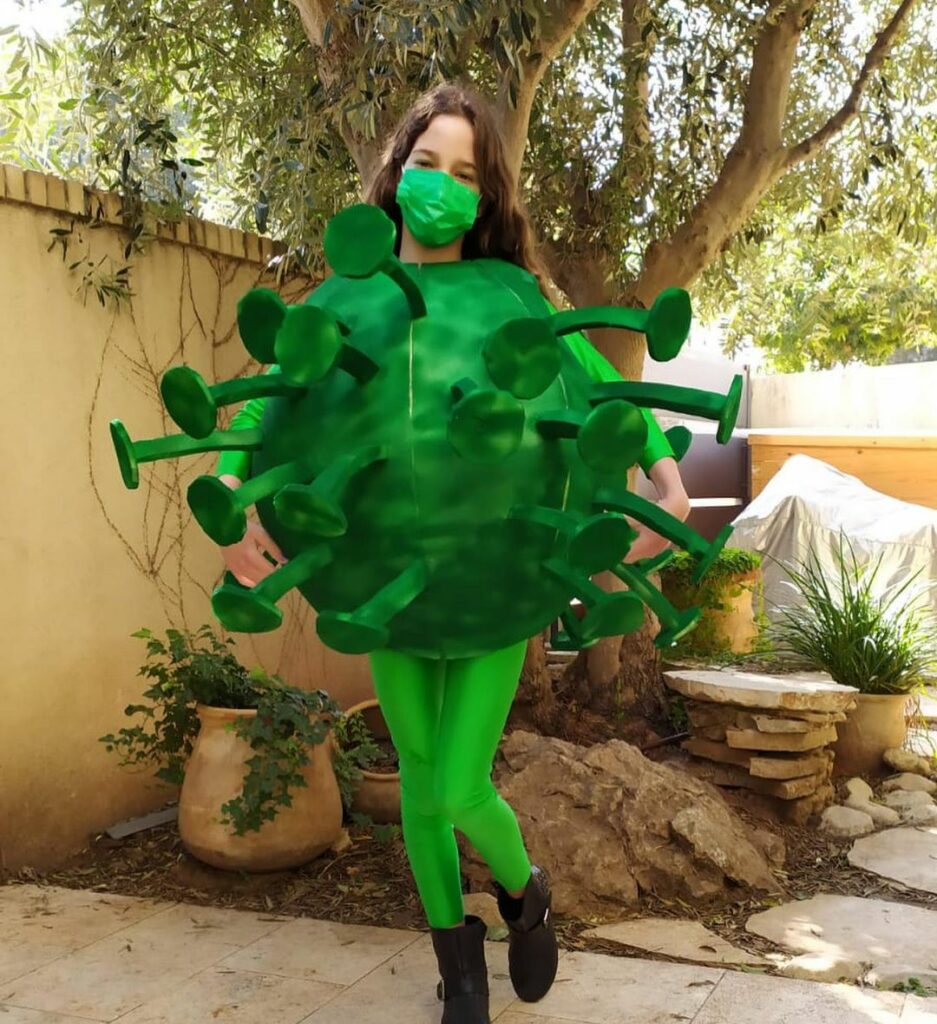 While the woman in this photo is NOT pregnant, she's certainly creative and talented. Using her skills as a stage seamstress, Tal Markovitch created this dead-on COVID costume, which, truth be told, would be perfect for someone with a growing belly.
4. Fortuneteller
The best part about this fortuneteller costume? Why, the baby bump crystal ball, of course!
5. Disco ball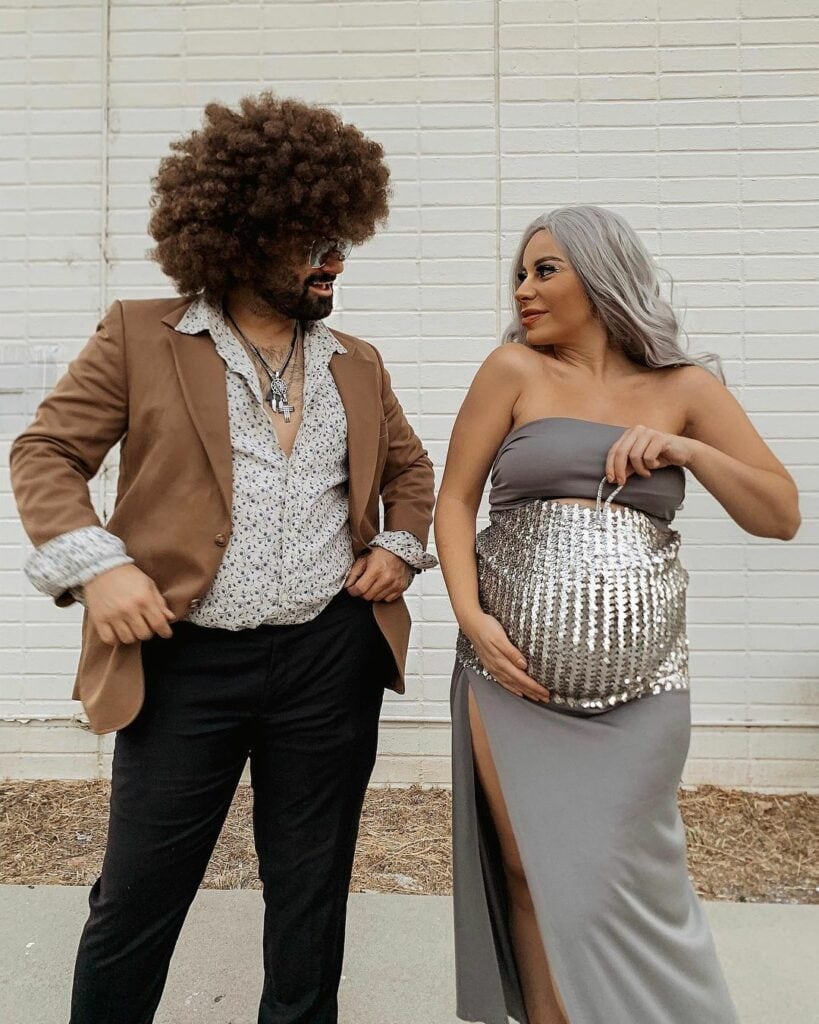 Want to give your bump a dash of glam? Why not try out this disco ball Halloween costume? Because every needs a little sparkle.
6. Avocado… toast
An avocado, but make it millennial by adding toast. Partner up with your special someone or a buddy and go as pregnant avocado toast. You, of course, being the avocado.
7. A bun in the oven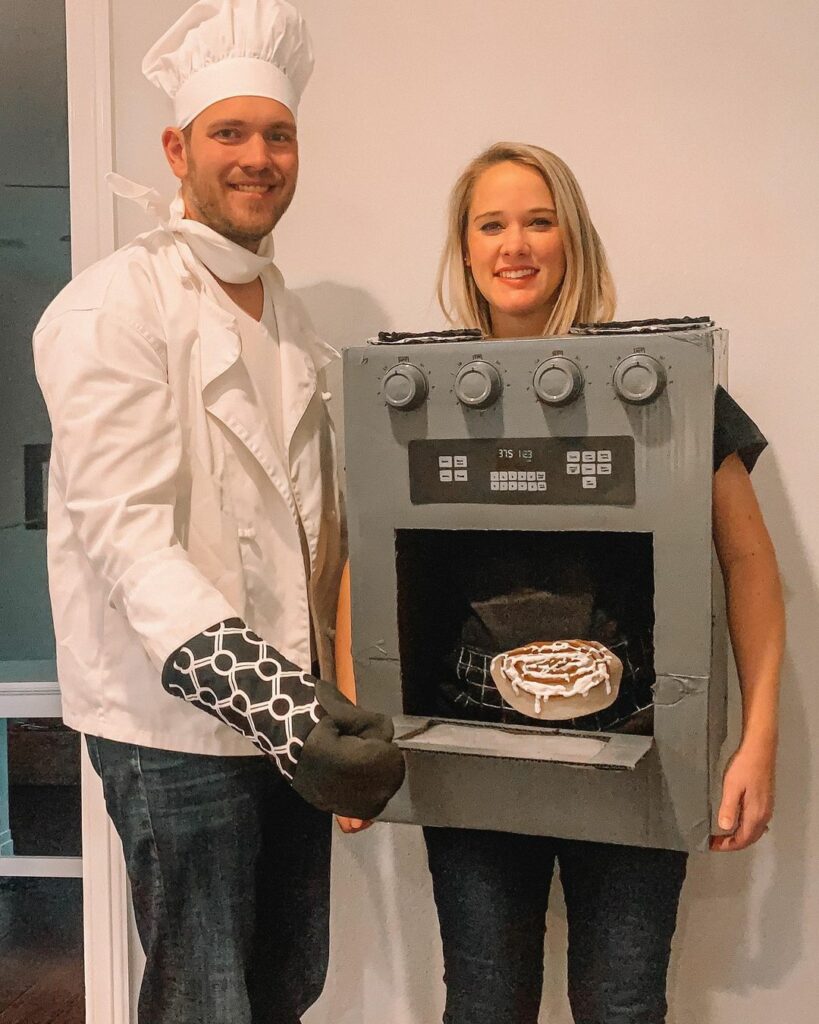 Show off your metaphorical bun in the oven with this clever bun in the oven costume. So cute!
8. Elliott and E.T.
Turn your baby bump into E.T. with this clever costume that recreates a scene from the movie.
9. 'Beer' belly
Want an easy-to-throw-together costume? Turn your baby bump into a "beer" belly!
10. Mummy-to-be
This mummy costume idea is perfect for a mom-to-be. Wrap up as warmly as you'd like. This baby is even getting their peek on!
11. Hickory Dickory Dock
A pregnancy-themed nursery rhyme costume? Yes, please. This grandfather clock and mouse make a great duet for parents-to-be.
12. Humpty Dumpty
Speaking of nursery rhymes, how cute is this Humpty Dumpty pregnancy costume? And love the king's horses and king's men!
13. Cow
The best kind of Halloween costume when you're expecting? A comfy one like this "udderly" adorable pregnancy costume. Add a big cardboard moon and you're a nursery rhyme, too.
14. Handmaid
Actress Elisabeth Moss would certainly approve of this handmaid's costume — as would Aunt Lydia.
15. Peas in a pod
Got a pregnant bestie? Together, you can make two seriously adorable peas in a pod.
16. Gumball machine
Such a cute and simple idea! Turn your baby bump into a gumball machine.
17. Magic 8-Ball
Being pregnant is already magical so use that bump to its full potential as a Magic 8-Ball.
18. Baseball player — with a baseball!
If you're going to be a pregnant baseball player, you obviously need to turn your belly into a baseball.
19. Avocado
Nothing better than a perfectly ripe avocado — except maybe this avocado pregnancy costume.
20. Zombie mama
If you're super talented with makeup or know someone who is, you could go as … a super-creepy pregnant zombie.
21. Cookie Monster
If you want to keep it super easy, Cookie Monster is a good choice — with cookies, of course.
22. Peek-a-boo baby
Here's a fun, albeit super-creepy, pregnancy costume idea. Baby, horns and all, wants to come out and join the Halloween festivities.
23. 'Moon baby' and stars
Love how this mom-to-be turned her baby bump into the full moon. And it makes for part of a good family costume, to boot!
24. Jack-o-lantern
Another super-easy and super-cute pregnancy costume? A jack-o-lantern!
25. Construction worker
Caution: construction zone. Baby bump ahead!
26. Mike Wazowski
If there ever was a time to be Mike Wazowski from "Monsters, Inc." surely it's during pregnancy.