Whether you're a parent hiring a sitter or the babysitter, you know one thing for sure: the kids are gonna need to eat. But instead of forking out $20 on a pizza (again!), it'd be nice to feel good about the meal you're serving the kids. Luckily, there are many simple recipes for kids that are both easy to make and healthier than boxed mac and cheese or takeout.
We asked Laura Fuentes, MOMables food blogger and author of "The Best Homemade Kids' Lunches on the Planet," to come up with some easy — yet fun, healthy and delicious — recipes for sitters and kids. Here are her suggestions.
All of the recipes below are fresh and easy to assemble. That means, less screen time and more playful, interactive learning. That's a win for the parents, the babysitter — and especially the kids!
1. DIY pasta
Leave all the ingredients in the refrigerator in separate bowls, and let the kids assemble their own pasta bowls themselves. A fresh variety of toppings are always best and a lot more fun.
Serves 1
You will need:
1 cup cooked spiral pasta
1oz mozzarella cheese, sliced
1-2 broccoli florets, chopped
Nitrate free pepperoni slices, quartered
3-4 black olives, sliced
3-4 cherry tomatoes, halved
1-2 Tablespoons Italian dressing (or olive oil)
Salt & pepper to taste
In a large bowl, combine all ingredients. Refrigerate or pack inside a lunchbox.
2. Bugs Bunny smoothie
For times when you need an afternoon snack and want a healthier option, setting up a smoothie bar can be a fun way to get the kids to eat fruit. This recipe will give an extra serving of fruit and veggies!
Serves 2
You will need:
1 1/2 cups frozen pineapple chunks
1/2 cup leftover steamed carrots (or fresh if your blender can handle it)
2/3 cup orange juice
1/2 banana
1/3 cup ice
In a blender, combine all ingredients. Blend well.
3. Healthy nacho trays
Got kids who love to snack on chips and dip? Leave the makings for these nacho trays with the babysitter and voila! Kids love assembling their own trays and everyone can feel good about the nutritional boost provided by the beans, avocados and fresh tomatoes.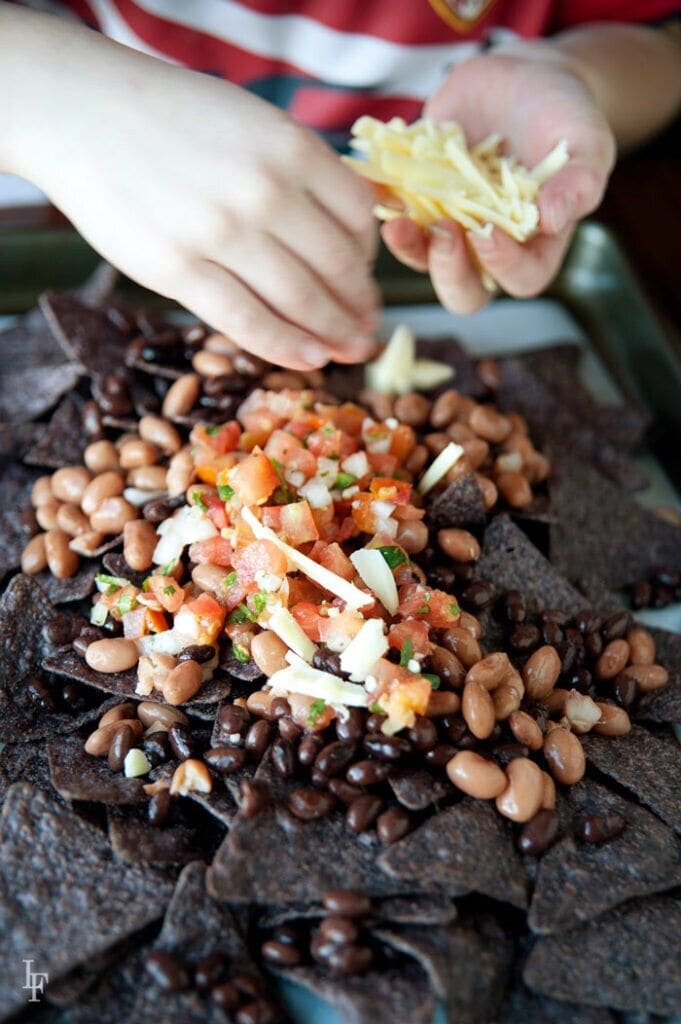 Serves 4
You will need:
6 ounce bag corn tortillas
15 ounce can black beans (or 2 cups leftover roasted chicken)
1 1/2 cups pico de gallo (fresh salsa)
1/2 cup black olives, sliced
2 cups shredded Monterrey Jack Cheese
1-2 avocados, diced
Plain Greek yogurt (or sour cream)
Place oven rack in the middle of the oven and turn oven on to broil medium/high.
Line 2-3 baking trays (1 tray for every 2 people) with parchment paper, making sure you cut the parchment paper in half so each person can make their own "tray".
Divide chips among the parchment paper trays. Top with beans (or chicken), black olives, pico de gallo, and cheese.
Place one cookie sheet inside the oven for 2 minutes, while watching the cheese melt. Once the cheese is melted, carefully remove from the oven and set aside for tray to cool down. Repeat the process with remaining trays.
Carefully transfer the paper trays with nachos onto large plates, top with avocados and Greek yogurt and enjoy!
4. Grilled apples and cheddar cheese sandwiches
Tired of the offering up the same old ordinary PB&J sandwiches for the kids? This apple and cheddar combination is one to please a crowd!
Serves 2
4 slices whole-wheat bread
1/3 cup shredded cheddar cheese (sliced works too)
1 apple, any variety and thinly sliced
Butter for grilling
Assemble the sandwiches by placing bread slices onto a cutting board. Sprinkle about 1 1/2 tablespoons of shredded cheese onto one slice of bread. Top with apple slices, sprinkle additional cheese, and close the sandwich with the other two slices of bread.
On a greased pan over medium heat, grill each sandwich for 3 minutes on the first side, or until golden brown, and flip. Grill for an additional 2 minutes, until cheese is melted, and remove from the pan.
Allow sandwich to cool down slightly prior to cutting.
5. Pita pizzas
If there is one thing kids love, it's building their own pizzas! Pre-measure or set aside all the toppings you'll need, and ask the babysitter to create an assembly line style pizza shop.
Serves 6
You will need:
6 pitas
1 1/4 cups pizza sauce
1 1/2 cups grated mozzarella
Favorite pizza toppings, pre-cut
Preheat the oven to 400 F and position the oven rack in the lower 1/3 of the oven. Line two baking sheets with parchment paper.
Spread 3-4 tablespoons pizza sauce onto each pita, top with toppings and cheese.
Bake one tray at a time, 7 minutes, until cheese is bubbly and melted.
Kitchen note: a toaster oven can also be used to make these pita pizzas under close supervision. If using a toaster oven, toast each pita pizza individually.