Summer's winding down, and children are gearing up for another year of learning. Teachers are preparing lessons, and parents are wondering how on earth they're going to get their kids up early again. Why not add a little fun to the madness — and ease kids back into the swing of things — with some back-to-school crafts.
Here are 30 easy and enjoyable back-to-school craft ideas to help get kids excited about heading back to the classroom. They're a great activity for nannies and sitters to do with kids, too. Many of these crafts also make great gifts for teachers — to thank them for all they do.
1. Block print burlap pencil bag
This block print pencil bag idea from Factory Direct Craft is designed for older crafters, but it will definitely be worth the effort in the end. First day of school, here we come!
2. Star name cards
Use special, shiny stickers to create a star name card for each student in your child's class. This project from Teaching Ace is fun and helps young children learn to spell their name.
3. Pipe cleaner notebook
All kids want their notebooks to be extra special. Well, this pipe cleaner notebook project from Textbook Mommy offers up a clean, cool look. All you need are some colorful pipe cleaners, glue and construction paper!
4. Notebook pocket organizer
This notebook pocket idea from Crème de la Craft will be a hit with older kids who are into sewing or fashion. This little pocket will keep students' pens and pencils organized right where they need them.
5. Apple clay bowl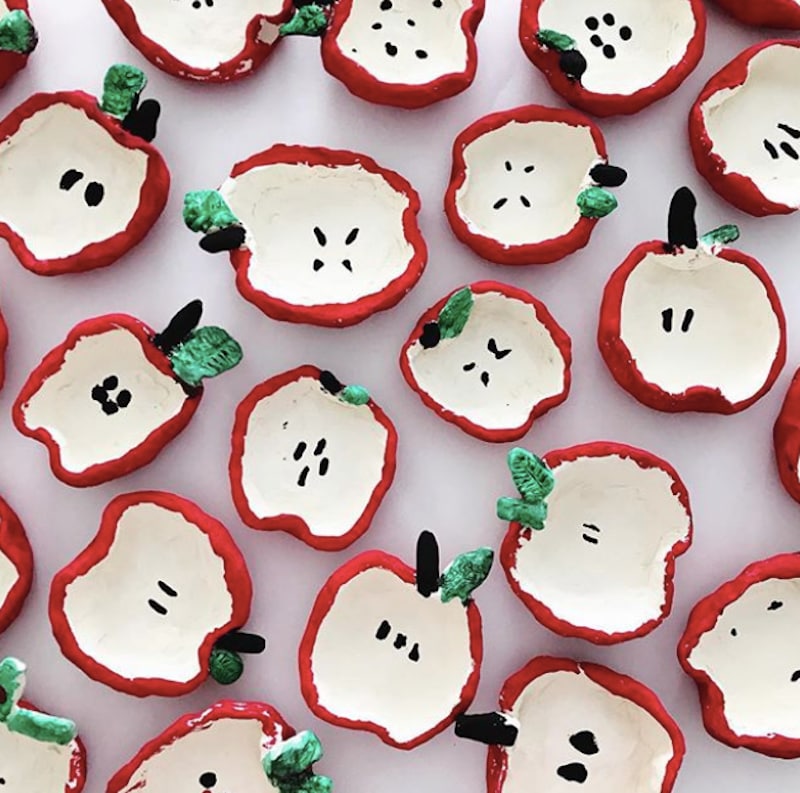 What teacher doesn't like receiving an apple from one of their students? Every teacher's sure to get plenty of the real thing, but why not make one that will last all year long? This little apple bowl from Mini Matisse Art (inspired by this Red Ted Art tutorial) will hold knick-knacks and decorate the teacher's desk. It'll look cute on your child's desk at home, too!
6. Apple notecards
Remember when mom used to tell you not to play with your food? Well in this case, you'll encourage it! Kids will love playing with sliced apples, dipping them in paint and creating these one-of-a-kind greeting cards from Think Crafts! to give to their new teachers.
7. Back-to-school cake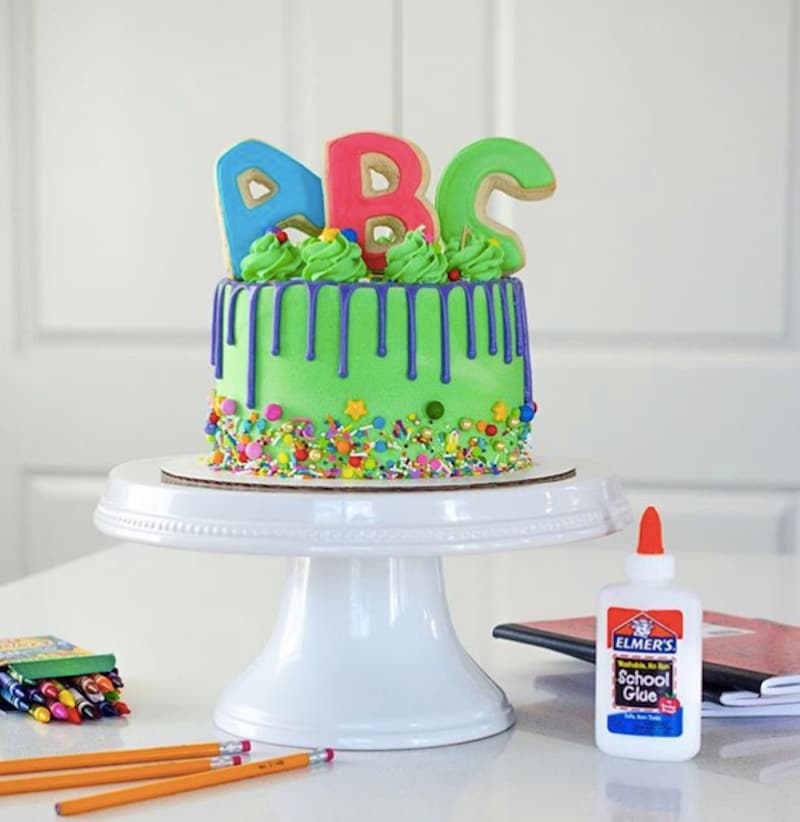 Fact: No child will ever say no to baking a cake. Why not whip up a back-to-school cake with little ones before their big day — and of course, let them eat the fruits — er, cake — of their labor.
8. Chestnut pencil topper
If you have a chestnut tree, your yard will soon be covered with chestnuts that can go to waste because they're so plentiful. Well, here's the solution from Red Ted Art: Re-use those nuts for a fun back-to-school pencil topper craft your kids can show off to friends.
9. Sand number flashcards
Looking for fun back-to-school crafts for toddlers? These beach-themed flash cards from I Can Teach My Child will remind little ones of summer and inspire them to learn how to count down the days until their next vacation.
10. Bottle cap locker magnets
This is a great way to reuse all those old bottle caps that have been lying around the house, and your teen will be ecstatic about these unique DIY locker decorations from How About Orange. They work great for hanging your kids' new A+ homework projects and drawings on the fridge, too.
11. Stamped apple tote
This stamped apple tote from Crafts Unleashed is one of the most stylish back-to-school crafts you'll make this year! A great gift for teachers, nannies or parents, it is fun, easy to make and useful, too.
12. Marker or crayon caddy
Don't throw away the box your kid's back-to-school shoes came in. Turn it into an easy-to-make crayon box, via Aunt Peaches. It makes everything easily accessible for all your future craft and homework projects.
13. Word art journal
If you're like most families, you probably have a few magazines and newspapers lying around the living room, begging to be used. Well, there's no better way to recycle those old magazines than to cut them up and let your child decorate their notebooks. What a fun idea from A Spoonful of Sugar Designs.
14. Egg carton school bus
Get kids back in the mood for that ride to school with this cute egg carton craft from Education.com. All you need is an empty egg carton, pictures, glue and paints.
15. Pencil vase
This craft is deceptively simple, but it turns out great in the end. All it takes is an empty can of soup, some pencils and glue. Parents and teachers will love this special pencil vase craft from Love of Family & Home, especially when accompanied by a hand-picked bouquet.
16. Back-to-school picture frame
If you're a snap-happy parent, this picture frame craft from Plaid helps your kids show off their best poses. It can also be a great way for your child to look forward to picture day at school. It's a simple craft, and even your littlest will be able to join in on the painting and decorating.
17. School bus tissue box
Whether the tissues are for the inevitable sniffles that come with cooler weather or because someone's eyes are watering after their kids board the bus, this school bus tissue box from Meaningful Mama is sure to come in handy.
18. Personalized clipboard organizer
Assign your child their very own, unique clipboard organizer ala Wannabe Crafter for their first day back to school. Younger kids may need a hand with this craft.
19. Felt bookmark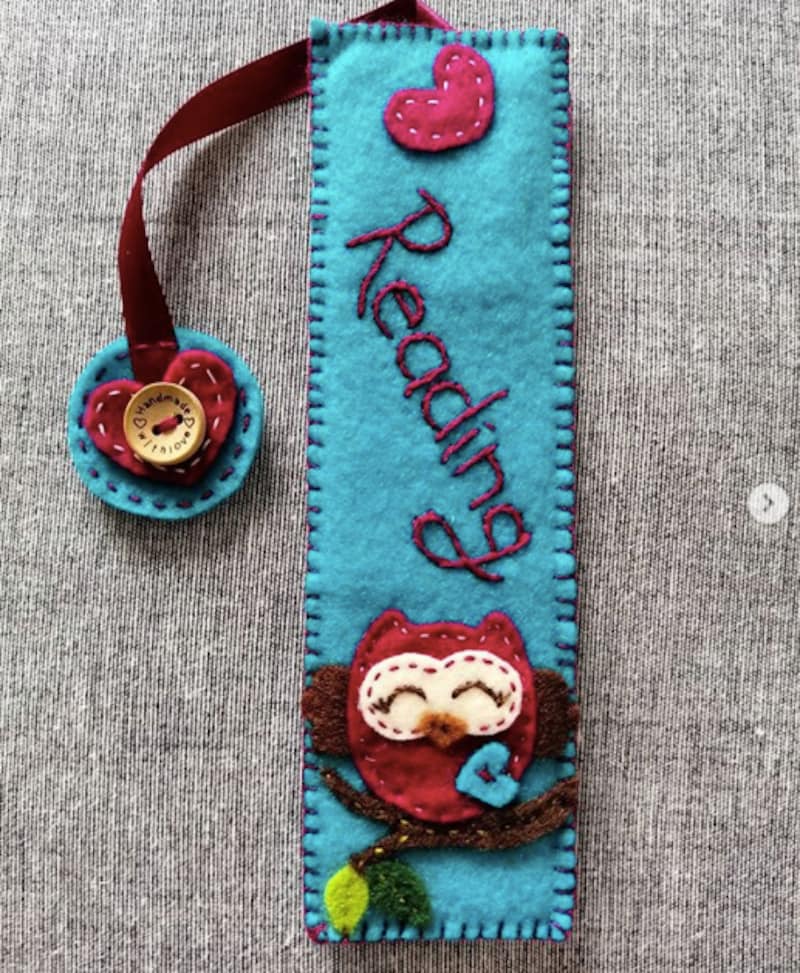 Make easy, inexpensive bookmarks out of just a few pieces of felt. Kids of all ages can use them for their school books or even give them out to their friends. Here's a bookmark tutorial from Everything Etsy.
20. Tie-dye lunch bags
These tie-dye lunch bags from Fave Crafts are one of the most stylish back-to-school crafts for kids. Who doesn't want a fun, personalized tote for lunchtime?
21. Back-to-school bus frame
Whether you want to get your little one used to "being on a bus" or are looking for sweet back-to-school crafts for preschoolers, these school bus frames from Craft and Boogie fit the bill all around.
22. Back-to-school pencil holder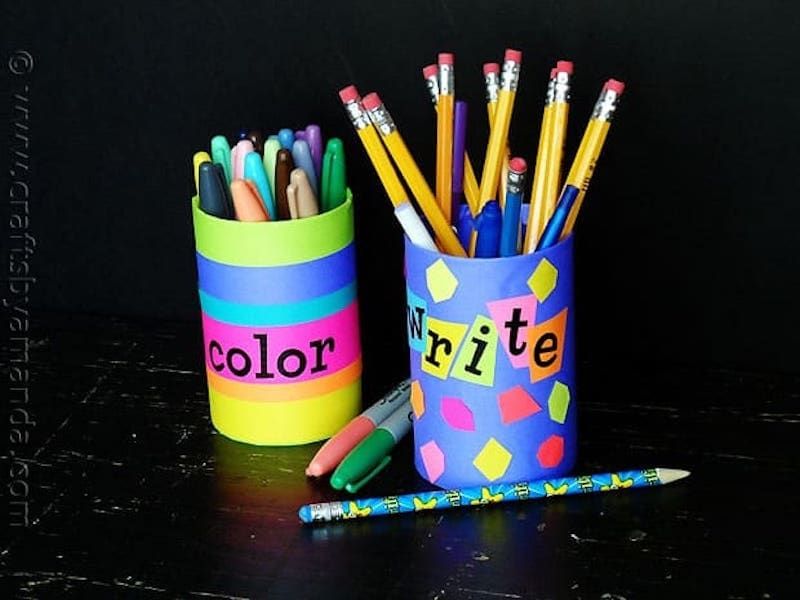 Spark your kids' creativity with a fun back-to-school pencil holder, like this one from Crafts by Amanda. Not only are they fun to make, they'll help kids stay organized through the school year.
23. DIY keychains
For older kids, this keychain craft from Inspiration & Realisation is a perfect and easy way to never lose their house key. It's a great tutorial with both multiple designs.
24. Recycled crayons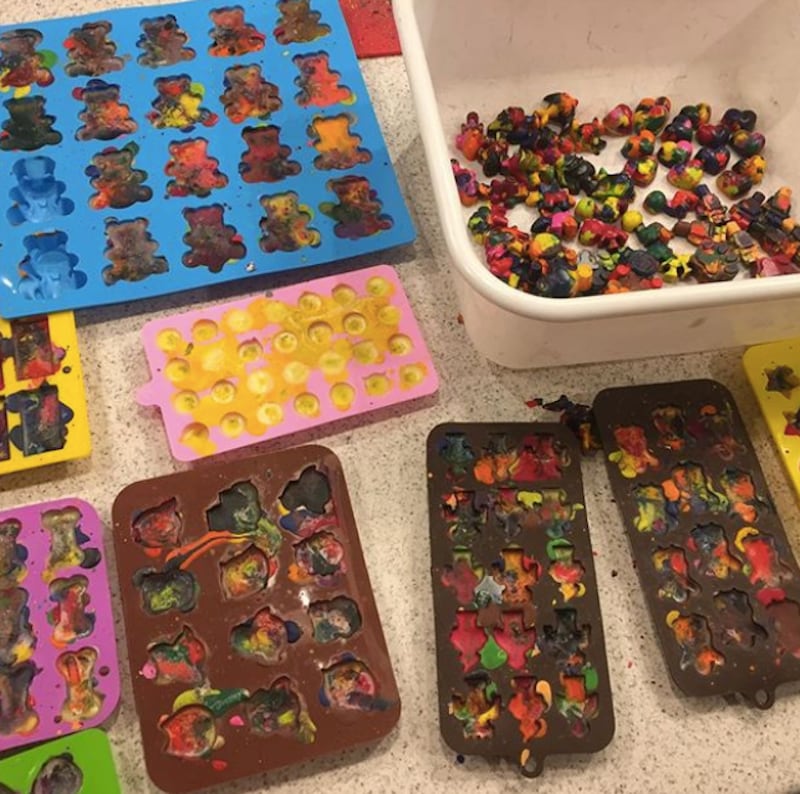 Instead of buying new crayons this year, gather all of your old crayons and help your kids make these fun-shaped crayons that will be a hit in the classroom. Here's a recycled crayon tutorial from The Imagination Tree.
25. Painted mosaic styrofoam frame
Perfect for kids of all ages, this easy craft from Pink Stripey Socks will help you create a great mosaic picture frame for class photos or first-day pictures.
26. Headphone cord covers
If your kids have to use headphones for school (and who doesn't these days?), this clever headphone cord cover isn't only cute and cozy, it's a great way to prevent cords from getting tangled.
27. Drawstring backpack
With help from a sewing machine, your child will love this homemade drawstring backpack from Handmade Kids that will stand out from the rest.
28. Back-to-school-themed meal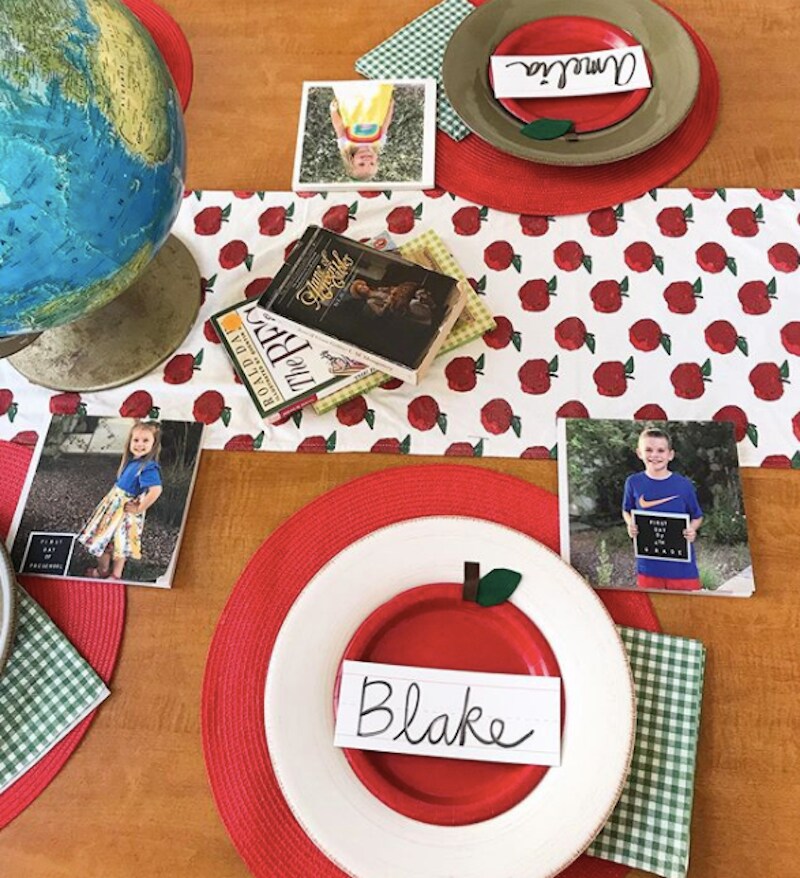 One of the sweetest back-to-school craft ideas? A decked-out back-to-school meal! Whether it's dinner the night before or breakfast the morning of, kids will feel super special sitting down to a meal that's decorated for their first day of school. And it'll make for a cute photo op to boot!
29. Locker mirror
Help your hip youngster make this adorable Mod Podge mirror that they will love to see each time they open their locker.
30. Pencil snack boxes
Not only are these printable pencil snack boxes from Partymazing super cute, they're super easy to put together with little ones. And bonus points for being a good activity to hone fine motor skills!
No matter the craft you decide on, your kids will certainly enjoy the time they spend working with their hands to make a creation all their own. And you'll love the special one-on-one time with the little ones before everything gets busy with a new school year.