Crafts keep children entertained and engaged and help them exercise creativity — and in the end, there's something delightful to display on the fridge or walls. But there is one caveat when it comes to crafts: The random supplies and materials that no one actually has on hand when it's craft time. Seriously, who has 12 yards of rainbow-colored washi tape in their craft cabinet (if they even have a craft cabinet … )?
Enter easy crafts for kids that can typically be made with things already in the house. From paper plate dinos to cardboard flower prints, check out our list of 15 kids craft ideas that can be made with three or fewer supplies.
1. Ice cream rocks
Can you handle the adorableness of these painted ice cream rocks from Projects With Kids?! So stinkin' cute! And they're even cuter since you really only need rocks, paint and a marker to make them.
2. 3-D swimming fish
Not only can you download these swimming fish from Kids Craft Room, you don't need much to bring them to life. Some colorful paper, colored pencils or markers, and if you have, googly eyes and you're good to go!
3. Popsicle stick bird feeder
Got some Popsicle sticks, glue and a few markers handy? Then you've got the makings for this bright and cheery birdhouse from Grace Giggles and Naptime. And no need to stick to this design exactly (though it is cute!). Have the kids get creative and come up with a bird abode of their own.
4. Paper plate animals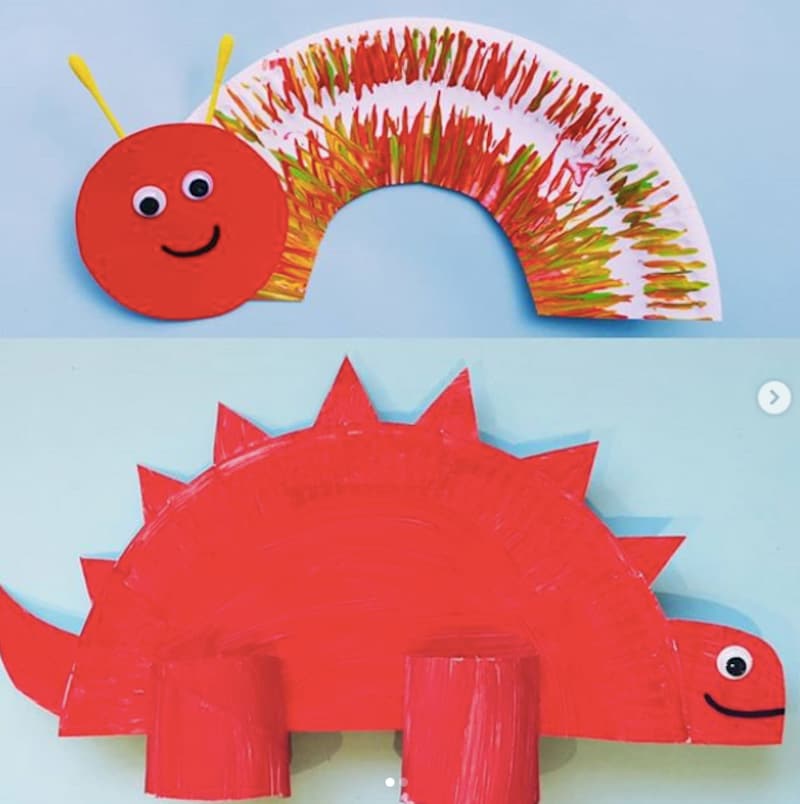 No matter what creature has their heart, kids will love creating these cute paper plate animals from Easy Peasy Projects. So long as you have paper plates, paint and maybe a marker, cotton swab or googly eyes lying around the house, you're good to go.
5. Popsicle stick friends
No doubt about it, Popsicle sticks are the gift that keeps on giving. And really, you don't need much beyond them to make something fun. Case in point: These cute Popsicle stick friends from Blissful Kids Crafts. Popsicle sticks, markers and cute cupcake liners and you're set. 
6. Paper tube cats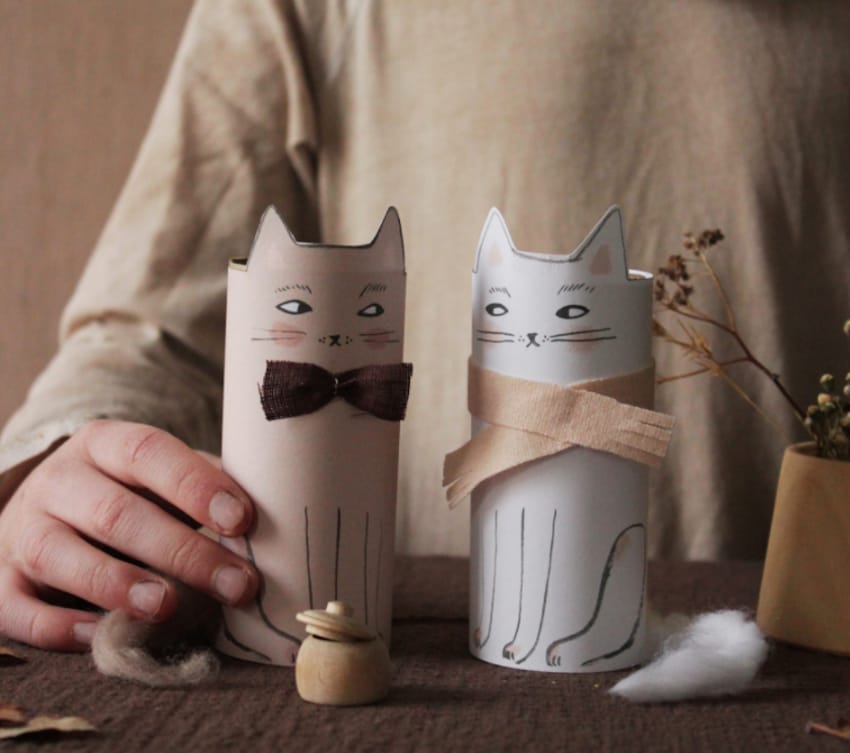 Whether you want to use the free paper tube cat printable from Mer Mag or try to whip up a rendition of your own, one thing is certain: These little kitties could not possibly be more adorable. (And they're virtually mess-free!)
7. Cardboard flower prints
If you have some corrugated cardboard boxes lying around (who doesn't?), along with some paint and paper, these corrugated cardboard flower prints from Emma Owl are super fun — and super easy — to make. Talk about a refrigerator show stopper.
8. DIY wind chime
Who says you need to shell out big bucks for a pretty wind chime that will always bring a smile to your face? This cute DIY wind chime from With Care is made from a plastic plant pot, some string and whatever beads you have on hand. A bright and pretty addition to any garden. 
9. Cotton ball and Popsicle stick rainbows
Not only are these sweet cotton ball and Popsicle stick rainbows from Krafty Kids NJ positively adorable, they're incredibly easy to make. Some colored Popsicle sticks, paper and cotton balls, and boom, you're done. Perfect activity for a rainy day. 
10. Chromatography butterflies
Whether you want to go full on chromatography butterfly like Nanny Anita (which isn't super hard, FYI) or keep the wing design a little more more basic, you don't need much more than coffee filters, clothes pegs (or clothes pins) and pipe cleaners for this cute craft.
11. Painted spiral pinecones
Got some pinecones? A little bit of extra paint lying around? A paint brush? Then you've got everything you need to make these super cool painted spiral pine cones from Arty Craft Josie. (Spoiler alert: Little ones' pinecones may not look quite this neat, but they'll be pretty nonetheless!) 
12. Button train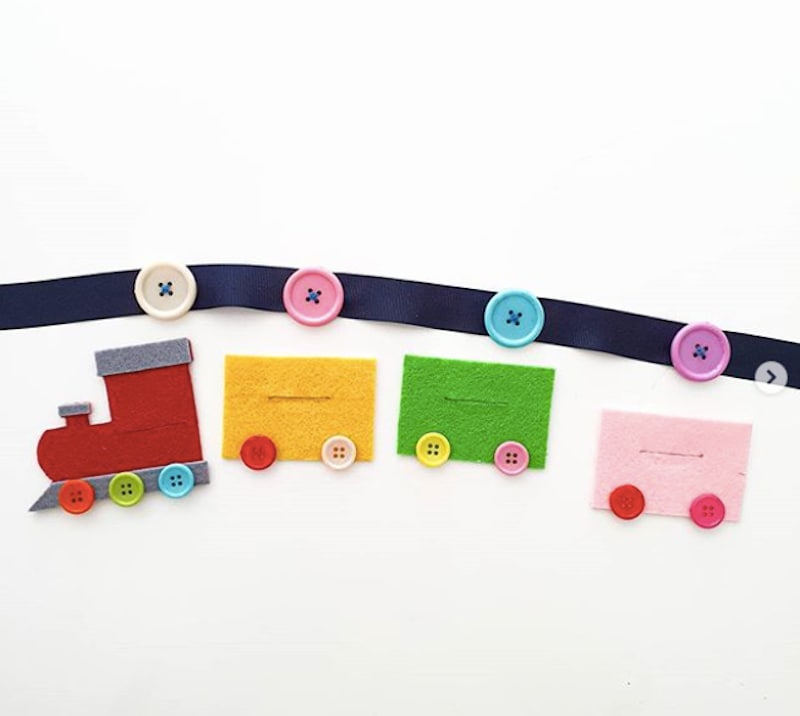 Whether you're looking to help a little one learn how to improve their buttoning skills or just want to create something cute (and you're more of a glue person than a needle and thread one), this sweet button train from Angela Tioanda is a win-win. 
13. Felt 'Popsicle'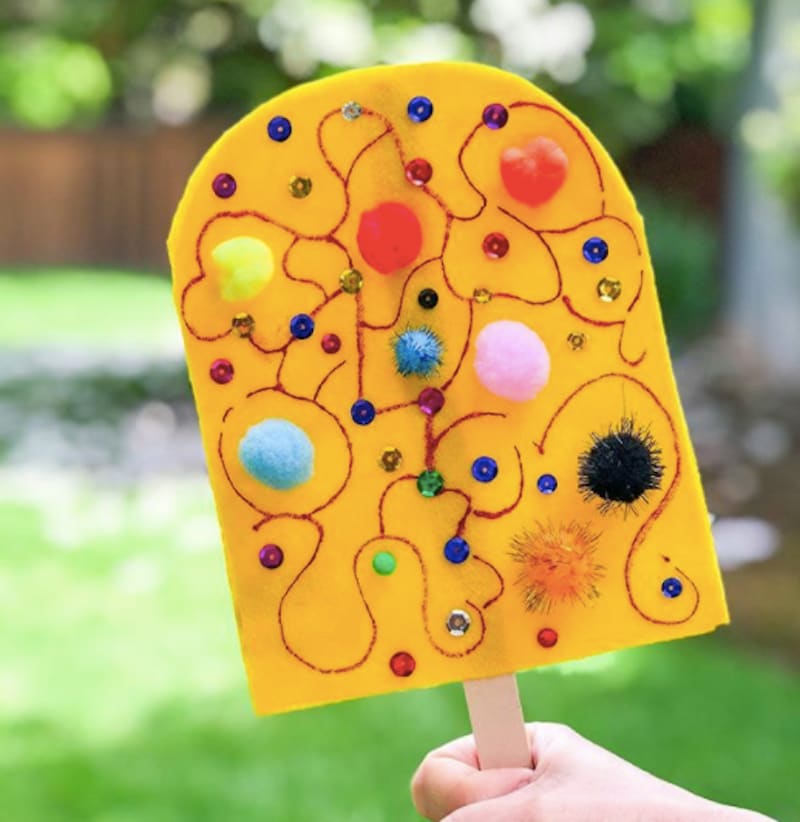 A piece of felt (or colored paper or posterboard, for that matter), a Popsicle stick and some glitter glue or sequins or pompoms (or whatever you have on hand!) and you've got this cute DIY Popsicle from Craft and Boogie. (P.S., if you don't have Popsicle sticks on hand, now may be a good time to order some!)
14. Paper balloon farm animals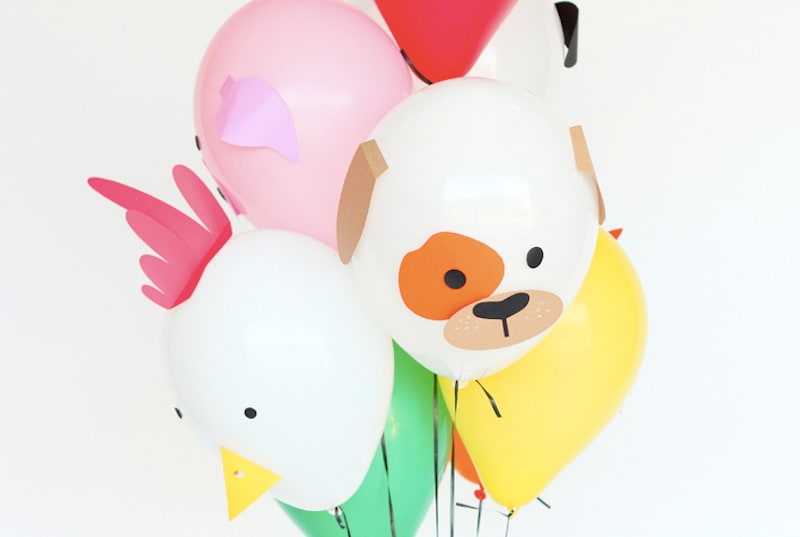 There's no denying it. These paper balloon farm animals from Delia Creates are as cute as it gets. Whether you want to use the free cut files provided on the site or try free-handing it, one thing is certain: Kids will love seeing these adorable animals come to life.
15. Kid-crafted plant stands
Looking for a fuss-free (generally direction-free) activity for the kids? These cute kid-crafted plant stands from Design Zazzle (via The Scrap Shoppe) are made from wood scraps and a little paint. And a nice bonus? You get to add a little color to your porch or backyard, thanks to little hands with big creativity.