I don't think my husband Tom and I fully appreciated how much our wedding was a celebration of our loved ones as it was of the two of us until we formally sat down and started planning.
Like a lot of couples, we invited out-of-town family and friends.  Based on our own experiences (some better than others) traveling to weddings, we wanted to do everything we could to make it easy for our guests coming to Boston for the big day.    
But we had some special circumstances to face as well.  My father-in-law has dementia and requires full-time care.
Facing an Unconventional Care Need
Planning a wedding can be all-consuming.  Just as you check one thing off the list, another to-do is added. From organizing the bridal party to negotiating with vendors to selecting flowers and favors, the details seem endless.  So much needs to get done and it always feels like you need more time.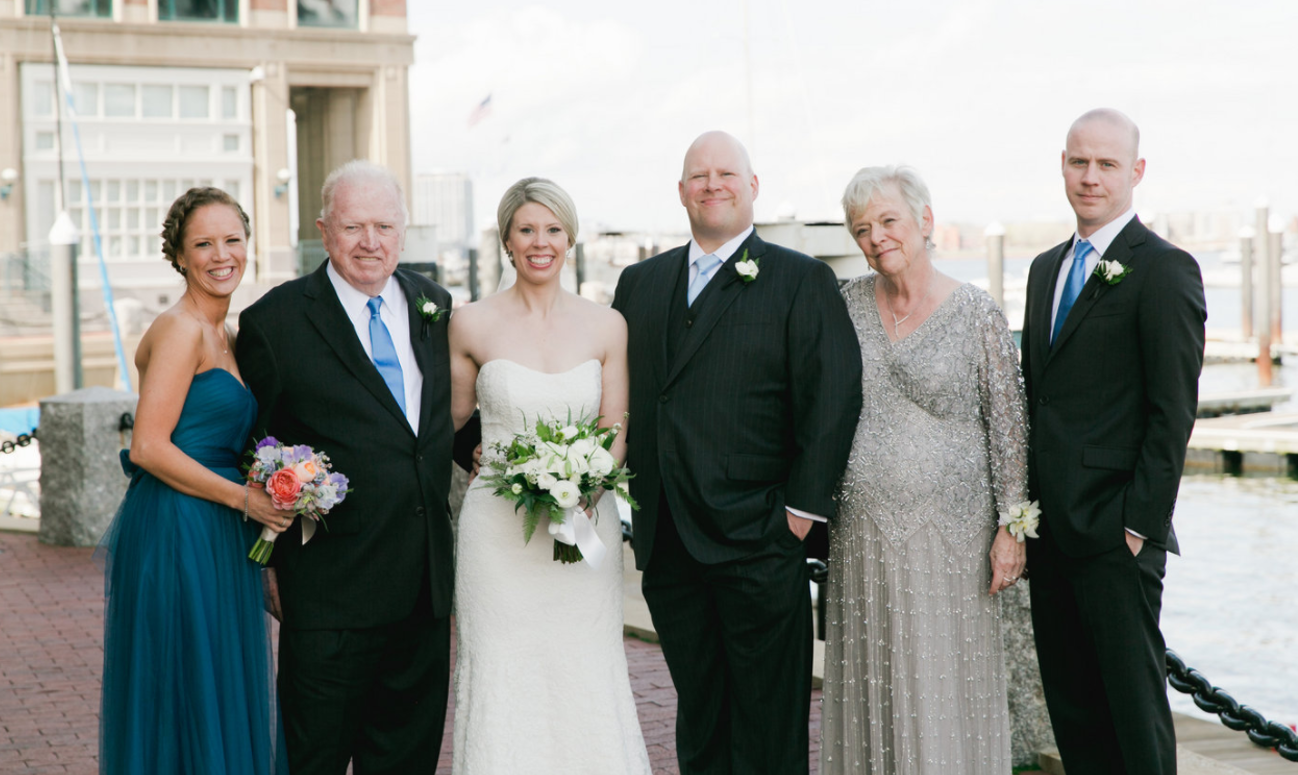 And then there's thinking through the needs of family who are coming together for the celebration. Tom's parents live in New Jersey and for several years now, his father, Tom, Sr., has been battling dementia. We couldn't imagine our wedding without him, but we also knew that if we weren't totally prepared in managing his care, it was going to create an added layer of worry over the course of the weekend. We needed him to feel safe and comfortable at every turn. Not only for his own well-being, but also for my mother-in-law, Jill, who is his primary caregiver at home. Giving her total peace of mind with the gift of great care would enable both of my in-laws to enjoy every moment.  
Benefits That Extend Beyond Immediate Dependents
I never imagined that my employer would play such a key role in the planning of my wedding. Nor did I anticipate when I joined the company three years ago that my first family care need would involve my father-in-law.  
About two months before our April 2016 wedding, I reached out to the team at Care@Work to ask about using my Adult Backup Care benefit.  While many people use the benefit in response to an unplanned, urgent care need, this was different. Tom and I weren't sure if it would include care for someone who wasn't an immediate dependent, or for a unique, one-off request in the future. But it did.  
A few hours after my formal request was made, I was put in touch with Christine, one of Care@Work's Adult Backup Care Specialists. Christine asked me a few initial questions about my father-in-law and what we were envisioning for his care over the wedding weekend. That first conversation alone made me feel so relieved. A weight had been lifted knowing I had an expert working on my behalf to find the best care for my father-in-law.  
What I loved most was that I could put Christine in direct contact with my mother-in-law so that she could share details and the coordination of his needs in a private setting — on her own schedule, with total discretion. Jill was grateful for Christine's knowledge and professionalism, and it immediately took away any potential discomfort that our family may have faced in having to relay sensitive information between one another. After working directly with my mother-in-law, Christine secured a qualified caregiver for my father-in-law for our entire wedding weekend – well in advance.  
Peace of Mind for Everyone
The weekend of April 23rd arrived, as did all the most important people in our lives. From the start of the rehearsal dinner to the end of the wedding reception, we took such comfort knowing my father-in-law was in caring, competent hands. It felt like his caregiver was instantly a part of our family.  She came dressed for each occasion, and was not only attentive and professional in managing my father-in-law's every need, but was so graceful in the way she fit into what was a very personal family event.  
Our wedding weekend was wonderful – filled with incredible memories for Tom and me, and all our family members. It was the ultimate gift.  
Knowing Care@Work Can Fulfill Its Mission
When I first joined Care.com, I felt like I hit a homerun. Not only did I love my job and the people I was working with, but I loved the company's mission, too. What I didn't realize then was what a difference that mission would make in my own life.  
The whole experience of entrusting and securing care for my father-in-law through my Care@Work benefits played such a major part in making our wedding weekend as wonderful as it was. The uniqueness of my situation, and the flexibility of my benefits in responding to it made me realize Care.com really can fulfill its promise of meeting the individual care needs of all employees. They were there for me then and they will be again in the future.  
Anne Hickey is Director of Business Systems and Applications at Care.com, where she manages the sales enterprise systems and IT needs of the sales, marketing and account management teams.  Prior to joining Care.com, Anne held several Director and Manager roles, developing strategy and overseeing budget analytics, marketing and product management for companies including Higher One, Sallie Mae and Upromise. Anne and her husband, Tom, live in Boston's South End with their dog, Buddy.   
This post is part of a series authored by Care.com employees, where they share firsthand experiences using Care@Work benefits, and reflect on the impact it's made on their personal and professional lives.
HR Leaders Also Read: