Are you an employee?
Tell others in your
company about Care.com!
Our Eldercare
Benefit
We offer comprehensive senior care planning
services
Learn More
»
Client Stories & Testimonials
Attract, Acquire, Retain... Repeat. Get 100% from your employees
& your benefits
Attract and retain top talent
Reduce absenteeism
Cost-effectively increase productivity & engagement
Drive flexibility and work-life initiatives
Achieve Complex Business Goals with an Easy to Implement Solution
Meaningful ROI
Any funds spent by the employer to help with caregiving have a payback to the employer of 2.5 to 5 times the investment. 1
35% of base payroll is attributed to employee absences. 2
In 42% of households, at least one parent has stayed with an employer because care benefits were offered. 3
53% of employees say work-life programs are an important factor in loyalty to their employers. 4
61% of employees say the benefits offered were the reason they joined their employer. 69% say they are the reason they stay with their employer. 4
Support every step of the way
Care.com's Account Management team provides ongoing support to make managing your Care.com benefit simple and easy.
Effortless Implementation:
Co-branded portal created & hosted by Care.com
Client-specific URL and home page
Worry-Free Management & Promotion:
Ongoing customized marketing materials to drive utilization & visibility
Available on-site seminars and web events
Proven Return on Investment:
Regular reporting and surveys to measure ROI
Experts Helping Experts
Care.com's on-staff experts provide additional support to our clients through educational seminars, webinars, and management training sessions that address the full spectrum of dependent care issues. Our learning sessions provide employees and managers with useful tools and strategies to address relevant caregiving challenges.
Topics include:
Creating your back-up care plan
The nanny search: how to effectively screen and vet candidates
Supporting senior caregivers in the workplace
Bridging generational gaps in the workplace
And many more...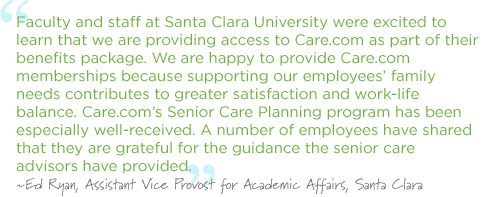 1 Pfizer, 1997
2 Survey on Total Financial Impact of Employee Absences, Mercer, 2010
3 State of Care Index, 2010
4 MetLife 8th Annual Study of Employee Benefit Trends, 2010

Call us for more details:
877-227-3916
Or send us an email:
error
Thank you for your interest in our Workplace Solutions.
A Care.com representative will contact you soon.
Did You Know...
Inspire loyalty
: In 42% of households, at least one parent has stayed with an employer because care benefits were offered.
- 2010 State of Care Index