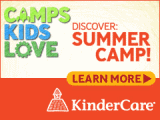 Wade Green KinderCare
Camp 4503 Wade Green Rd., Acworth, GA 30101
Get set for a thrill-filled summer! Our age-specific, kid-approved camps add up to a season of discovery and fun for preschool to school-age children. This year, our 12 weeks of camps fall into six gr...
More

What do these symbols mean?
Means they have passed our pre-screen criteria
Means they have not passed one or more of our pre-screen criteria or have not been pre-screened
When we do pre-screen, what do we look for?
During the pre-screening process our CareForce team:
Verifies profile information for accuracy
Cross checks the Better Business Bureau for accreditation and reputation ratings
Conducts an online media search for negative, newsworthy incidents
Performs an overall reputation check by reading a sample of online reviews
Please note that the CareForce pre-screening results do not reflect a care provider's licensing status. Learn more about licensing information for child care centers and in-home day cares
Information reviewed during the pre-screening process can change at any time. Accordingly, please make sure you perform your own research on the care providers you are considering and feel completely comfortable with the company or individual you have selected. Ultimately, you are solely responsible for selecting an appropriate care provider for you and your family.
About this camp
SERVICES OFFERED
SESSIONS
Wild About Water
Dive into the sometimes-surprising ways of water!
PRESCHOOL/PREKINDERGARTEN: Water Here, There, Everywhere.
SCHOOL-AGE: Waterworks (Week 1); Splashdown! (Week 2).

Mighty Bodies, Bendy Brains
Uncover the secrets behind spectacular sports and fitness fun!
PRESCHOOL/PREKINDERGARTEN: Get a Move On.
SCHOOL-AGE: Sports Sleuths (Week 1); Fantastic Fitness (Week 2).

The Wondrous World of Food
Navigate your way to a love of healthy foods and cooking!
PRESCHOOL/PREKINDERGARTEN: Fruity Feasts and Vegetable Treats.
SCHOOL-AGE: From Seed to Table (Week 1); Once Upon a Mealtime (Week 2).

Featured Creatures
Safari to the secret lives of hoppers, climbers, crawlers, and leapers!
PRESCHOOL/PREKINDERGARTEN: Animal Academy.
SCHOOL-AGE: Creepy Crawlies (Week 1); Spiny Specimens (Week 2).

Awesome Art
Travel back in time to learn about art, then dream up creative masterpieces!
PRESCHOOL/PREKINDERGARTEN: Art-Tastic.
SCHOOL-AGE: Ancient Drawings to Modern Doodles (Week 1); Eye-Popping Art (Week 2).

Gravity Galore and More
Float up, up, and away to a place where science is the star!
PRESCHOOL/PREKINDERGARTEN: Astro Adventures.
SCHOOL-AGE: Destination Mars (Week 1); Tricky Science (Week 2).
Reviews
Average User Rating: