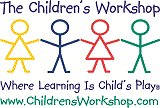 The Children's Workshop - Norwood, MA
Child Care Center Norwood, MA 02062 508-734-9261
Special Offer:
Mention Care.com and we will waive your registration fee!
OFFER EXPIRES 01/01/2014
The Children's Workshop provides busy, working parents with the quality childcare and early education they deserve at an affordable price. We've been dedicated to caring for and educating young childr...
More





What do these symbols mean?
Means they have passed our pre-screen criteria
Means they have not passed one or more of our pre-screen criteria or have not been pre-screened
When we do pre-screen, what do we look for?
During the pre-screening process our CareForce team:
Verifies profile information for accuracy
Cross checks the Better Business Bureau for accreditation and reputation ratings
Conducts an online media search for negative, newsworthy incidents
Performs an overall reputation check by reading a sample of online reviews
Please note that the CareForce pre-screening results do not reflect a care provider's licensing status. Learn more about licensing information for child care centers and in-home day cares
Information reviewed during the pre-screening process can change at any time. Accordingly, please make sure you perform your own research on the care providers you are considering and feel completely comfortable with the company or individual you have selected. Ultimately, you are solely responsible for selecting an appropriate care provider for you and your family.
About this program
SERVICES OFFERED
Up to 6 months
7 months-3 years
4-6 years
7-11 years
12+ years
After school programs
Before school programs
Summer camp
Reviews
Average User Rating:
Maria M says:
The TCW has saved my life. I did not know that 17 years later I would have to choose daycare again. I thought my standards were right where they should have been; and then I went to visit TCW and discovered that my standards were not high enough. My son has both blossomed and has increased his mental and physical abilities. There is not one day where I see the difference in him. Every teacher treats my son as if he is special and like their own child. The center is always well organized and clean beyond my satisfaction. The TCW is the "Nordstrom's" of child care. It is worth every dime that I pay for. I have exceptional quality and care and I never once worry about my child's well-being during the day.