Wisconsin Home Care
Find caregivers and in-home aides to help your loved one in Wisconsin.

0 Comments
Wisconsin - Home Care
While many seniors want to age at home, some do require a little extra assistance with daily tasks. When this time comes many families elect to find a senior housing facility, but for families who are not interested in senior housing, Home Care is a helpful option.
What is Home Care?
There are two types of senior home care: skilled medical home care and non-medical home care. The type of treatment a senior will receive is based on which type of care a family chooses and the certifications of a given caregiver. If your loved one needs assistance with daily tasks and also some kinds of medical help, such as medication administration or wound care, then skilled medical home care is the best option. Compared to a nursing home, the level of monitoring is not as high, but the quality of medical care and type of treatment can be just as strong.
Seniors who require assistance with activities like bathing, dressing, or cooking, but do not require medical care are best served with non-medical home care. This care provides assistance, but not the level of care a visiting nurse would provide.
Wisconsin Home Care Resources
Wisconsin DHS Home Care Information: Information from the Department of Human Services regarding home health care.
Northwest Wisconsin Home Care: A home care service for families in Northwest Wisconsin.
Home Health United: A home care agency serving 25 counties in southern Wisconsin.
While searching for home care a senior must first identify their loved one's needs and decide what is right type of care. After the type of care is decided, all of the options that exist in your area should be looked into in order to see what is offered. Finally, each care provider must be carefully evaluated in order to find the best possible care for an aging loved one.
More Resources
Looking for quality senior care in Wisconsin? Take a look at the local pages below.
Madison
Brookfield
Delafield
Like this? Get more.
Sign up for the latest articles, news and tips of your choice. All delivered weekly to your inbox.
Find the senior care your loved one deserves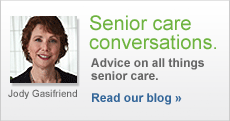 Visit Sheila's Blog
Get advice for your family from our founder (and chief mom officer), Sheila Lirio Marcelo.
Sponsored Listings
Caregiver Tax Service
Care.com HomePay
SM
handles your household payroll and taxes without work, worry or risk.


Philips Lifeline
Finally! A Help Button that can automatically call for help. In an emergency, every second counts.