What Is a Power of Attorney?
Contributor
|

1 Comment
,
A Power of Attorney is a document, where the person signing the form, referred to as the Principal, gives someone else the authority to make decisions or enter into agreements on his behalf.
The person who is given this authority is referred to as the Agent or Attorney-in-Fact ("AIF".) With this power, the AIF may perform tasks for the Principal, such as pay bills, hire aides or negotiate with government agencies. If an older person does not have a Power of Attorney in place and then loses mental capacity, family members may need to apply to a Court to obtain a Guardianship. This can be a time-consuming and often expensive legal proceeding.
There are generally two kinds of Power of Attorney forms that are commonly used.
One is a Springing Power of Attorney. Here, the authority of the AIF does not begin until the Principal is no longer able to make decisions for himself -- when he is determined to be incompetent. This might be an appropriate type of Power of Attorney for someone who is very reluctant to give another person the power to act on his behalf. However, it can be burdensome to activate because financial institutions and others relying on the form will want proof that the Principal is incompetent. Supplying that proof just when the AIF needs to act can be frustrating.
The other type of Power of Attorney is a Durable Power of Attorney. With this, the AIF has the power to act on the Principal's behalf when the Principal is competent, and the power continues should the Principal become incompetent. It may be useful to have the Power of Attorney activated even if the Principal is competent. For example, a parent may be competent, but would still appreciate their child helping pay bills, manage investments, contract with service providers and handle general tasks.
Here are some very important things to know about Power of Attorney forms that you sometimes don't find out until it is too late:
Each state has its own Power of Attorney requirements. A Power of Attorney signed in one state should work in any state. However, since each state has its own requirements and often their own forms, it's a good idea to have POAs from each state where you spend a considerable amount of time. For example, if your parents spend half the year in Florida and half the year in New York, it's a good idea to have a Power of Attorney from both Florida and New York.
Some financial institutions will balk at recognizing a General Power of Attorney and will ask that the Principal sign one that is specific to that institution. So it is a good idea to call the institutions where assets are held and ask them to send their own forms. Signing an institution's Power of Attorney form should be in addition to a General Power of Attorney, not instead of.
In many states, in order for the AIF to have the authority to make gifts, transfer assets, or set up trusts, the Power of Attorney form must specifically authorize those actions. This is particularly relevant in the Elder Law context where the transfer of assets may be an important part of the long term care plan or as a means to do estate tax planning.
Choosing an AIF is no simple matter. Because of the authority and access that the AIF has, there are opportunities for abuse. Therefore, the person named as the AIF must be trustworthy and understand the seriousness of the role.
Having a good Power of Attorney form in place is a crucial part of any estate plan -- no matter how old you are. It is particularly relevant for older adults who may be more likely to need assistance. The best way to ensure that the form covers the bases and is executed properly is to consult with an attorney familiar with this area of law.
Like this? Get more.
Sign up for the latest articles, news and tips of your choice. All delivered weekly to your inbox.
Find the senior care your loved one deserves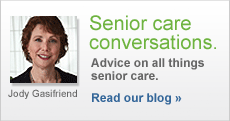 Visit Sheila's Blog
Get advice for your family from our founder (and chief mom officer), Sheila Lirio Marcelo.
Sponsored Listings

Caregiver Tax Service
Care.com HomePay
SM
handles your household payroll and taxes without work, worry or risk.

Philips Lifeline
Finally! A Help Button that can automatically call for help. In an emergency, every second counts.