Villages and Intentional Communities
0 Comments
|
Intentional communities and "villages" typically are, or are affiliated with, non-profit organizations and have much in common with a buying co-op. These loosely defined communities are planned to help the aging populations stay in their own neighborhoods and create a network of connections that allow them to lead safe, healthy productive lives in their own homes. You get to live right where you are, and become part of an association and community that organizes and delivers programs, amenities and discounted services. Do take note that if you need 24/7 nursing assistance or in-home skilled care, this is sometimes available at a discount with a vetted agency.
How Do Villages and International Communities Work?
Participants pay a membership fee and have a variety of services available, such as social and educational programs, household care (cleaning, grocery shopping, errands, and meals), personal assistance, companionship, and nursing care if needed. These communities are located all across the world, including many in the U.S., such as Beacon Hill Village in Boston, Mass. and Avenidas Village in Palo Alto, Calif. People can even start one of their own if they live in or near a naturally aging community; there may already be many of the potential members, interests, access and resources needed.
Is a Village or Intentional Community Right for Your Situation?
This is a wonderful concept that allows high functioning, community minded seniors to remain in their homes and social circles while receiving access to the services and supports that enable them to continue to live independently.
If your loved one can answer yes to the following questions, villages might be a good option to consider:
Do you live in a naturally aging area?
Are there intentional communities/villages already nearby?
Would you enjoy knowing your neighbors?
Do you want to volunteer, contribute, teach, and be an active member of a community?
Do you like feeling as if you're a part of something bigger than you-and feeling connected?
Do you like the notion of easily accessible services and amenities such as grocery delivery, snow plowing, etc. that you would have to find on your own if you weren't living in a village?
Would you like access to educational seminars, films, exercise programs, trips, and social events held in nearby religious or cultural institutions, restaurants, and community centers?
How Much Do Villages/Intentional Communities Cost?
Individual membership costs range from $500-$1,000 per year, varying by location and amenities provided. You can also purchase a household membership.Some are even subsidized by community donations and grants for those with lower incomes. Many "villages" reach out to those with varying income ranges and encourage diversity. Do take note that if you need 24/7 nursing assistance or in-home skilled care, this is sometimes available at a discount with a vetted agency or you can find the care you need through the Senior Care section of Care.com and through our Senior Care Advisors as noted above in the Home care section.
Most villages have a small hired staff and volunteers to help run daily operations. Every community has a slightly different focus because the services and activities are membership driven. There is usually a board so amenities and services can be voted on by that group. Control and direction are decided by an elected governing body. You can visit the Village to Village Network and learn more about different villages.
Review the Senior Care Index for all senior care options.
Like this? Get more.
Sign up for the latest articles, news and tips of your choice. All delivered weekly to your inbox.
Find the senior care your loved one deserves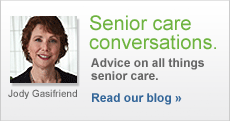 Visit Sheila's Blog
Get advice for your family from our founder (and chief mom officer), Sheila Lirio Marcelo.
Sponsored Listings


Caregiver Tax Service
Care.com HomePay
SM
handles your household payroll and taxes without work, worry or risk.

Philips Lifeline
Finally! A Help Button that can automatically call for help. In an emergency, every second counts.