Veterans Benefit and Elder Care Costs
How aid and attendance can help you.
Editor
|
6 Comments
,
Many veterans and their spouses are unaware of a benefit they are entitled to that could help them pay for care as they age, says Certified Elder Law Attorney Denise N. Yurkofsky. While the Aid and Attendance benefit is extremely helpful, there are strict eligibility requirements regarding income, assets, need and service.
The Aid and Attendance Benefit
The Aid and Attendance benefit -- up to nearly $2000 a month -- can help veterans receive services that could make a significant difference in their lives, says Yurkofsky. Some veterans qualify for a full benefit; others for a partial benefit.
The benefit covers both home care and assisted living or nursing home costs. Spouses of eligible veterans can also receive this benefit, but will qualify for less money than the actual veteran.
Eligibility Requirements
Wartime veterans who entered service on or before Sept. 8, 1980, must have had "at least 90 days of active military service," at least one of which must have been during wartime, and not have been dishonorably discharged.
Those who entered wartime service after Sept. 8, 1980, must have had at least 24 continuous months of service, and not have been dishonorably discharged.
In addition, there are strict requirements as to income, assets and need -- the veteran or surviving spouse must not be able to care for him- or herself and must need regular personal assistance.
But the Department of Veterans Affairs encourages even veterans whose income is too high to qualify for a monthly VA pension to apply for Aid and Attendance if they have high medical costs for which they don't receive reimbursements.
Helpful Link
Ronnie Friedland is an editor at Care.com. She has co-edited three books on parenting and interfaith family life.
Like this? Get more.
Sign up for the latest articles, news and tips of your choice. All delivered weekly to your inbox.
Find the senior care your loved one deserves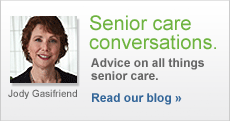 Visit Sheila's Blog
Get advice for your family from our founder (and chief mom officer), Sheila Lirio Marcelo.
Sponsored Listings


Philips Lifeline
Finally! A Help Button that can automatically call for help. In an emergency, every second counts.

Caregiver Tax Service
Care.com HomePay
SM
handles your household payroll and taxes without work, worry or risk.