Vermont Transportation Resources
From trips to the grocery store to other errands, get the transportation assistance your senior needs in Vermont.

0 Comments
Vermont - Transportation
One of the biggest decisions seniors can make is when to stop driving. They (and family members) might feel some relief at giving up the car, but also some sadness at the perceived loss of independence. Researching local transportation options becomes crucial to making an individual feel less restricted by not having a car. You can find some information about
how to approach this conversation
on Care.com.
Ride Services
Friends and family members are often glad to drive a senior to appointments or on outings, but sometimes this option is not available. In those times, a local car, bus, van, or taxi service may be the best option. Such may run on a set route, while others may be a door-to-door service, but most are affordable and easy to use.
Here are a few examples of such services in Vermont:
Vermont Division of Disability and Aging Services
: Transportation information for seniors from the DDAS.
GMTA Ride
: A senior ride service from the Green Mountain Transit Agency serving a number of towns and cities.
Stagecoach Transportation Services
: A transportation organization that offers senior ride services.
Southwestern Vermont Council on Aging
: Information regarding senior transportation in Southwestern Vermont.
CCTA Senior Services
: Chittenden County Transportation Authority's senior bus and shuttle service.
These are just a few examples; it is best to contact your local senior center to find out the most convenient option for an elderly family member.
More Resources
Need help getting around? Post a
transportation job
.
Looking for quality senior care in Vermont? Take a look at the local pages below.

Montpelier

Chittenden

Jericho
Like this? Get more.
Sign up for the latest articles, news and tips of your choice. All delivered weekly to your inbox.
Find the senior care your loved one deserves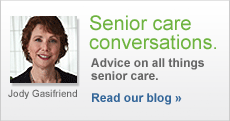 Visit Sheila's Blog
Get advice for your family from our founder (and chief mom officer), Sheila Lirio Marcelo.
Sponsored Listings
Philips Lifeline
Finally! A Help Button that can automatically call for help. In an emergency, every second counts.

Caregiver Tax Service
Care.com HomePay
SM
handles your household payroll and taxes without work, worry or risk.

ElderLawAnswers
Find an attorney in your community to assist you with long-term care & estate planning issues.