Tennessee Senior Housing
Read about the local resources that can help you find senior housing in Tennessee.

0 Comments
Tennessee  - Housing Resources
Once you decide a senior housing facility is the right choice for your aging loved one, whittling down your search to the most relevant options is important.  First, determine your loved one's medical needs and ability to live independently and then look into the options that best suit those needs. Each residence is specifically constructed to cater to certain levels of care.
Continuing Care Retirement Communities
One option for seniors is a Continuing Care Retirement Community, or CCRC, which allows a senior to receive a continuum of care as he or she ages without moving to another place. A CCRI integrates all levels of care into one living community by constructing accessible independent living, assisted living, and nursing home facilities.
Retirement Communities
When advanced age makes it uncomfortable for your loved one to live at home, but institutionalized care is not needed, a retirement community might work best. Seniors often transition to communities where they can socialize with their peers, conveniently access necessary services, and peacefully enjoy retirement. Discuss
retirement community
options with the senior in your life to determine what is best for them.
Assisted Living
When your loved one needs some help but not intense medical assistance or frequent monitoring, an assisted living facility is a good option. While assisted living facilities are not licensed to provide the level of medical care available in nursing homes, they do provide multiple services facilitating patient health including grooming, bathing, feeding, taking medication, and meals.
Nursing Homes
When the needs of your loved one require consistent monitoring and intensive medical care, a nursing home is a good choice. Medical treatment of residents in a skilled nursing facility must be approved by their physician and typically includes medical supervision, nursing care, and physical or occupational therapies.
Nursing homes
provide care services which can only be given by licensed medical personnel, surpassing the care giving capacity of assisted living facilities.
  Read about
the differences between home care and nursing home care
.
Additional Resources
Retire Tennessee
: Offers information about retirement communities in the state through the Tennessee Department of Economic and Community Development.
Tennessee Long-term Care Information and Assistance: Call 1-866-TENNOPT or 1-866-836-6678 for information about long-term care.
More Resources
Senior Care Guide
: Care.com's comprehensive guide to senior care that helps readers understand senior care options by describing each option in detail and answering frequently asked questions.                     
For more information on senior healthcare, visit our
Articles and Resources
page.
Looking for quality senior care in Tennessee? Take a look at the local pages below.
Nashville
Signal Mountain
Collierville
Like this? Get more.
Sign up for the latest articles, news and tips of your choice. All delivered weekly to your inbox.
Find the senior care your loved one deserves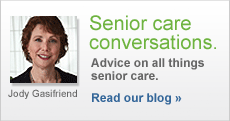 Visit Sheila's Blog
Get advice for your family from our founder (and chief mom officer), Sheila Lirio Marcelo.
Sponsored Listings

ElderLawAnswers
Find an attorney in your community to assist you with long-term care & estate planning issues.

Philips Lifeline
Finally! A Help Button that can automatically call for help. In an emergency, every second counts.
Caregiver Tax Service
Care.com HomePay
SM
handles your household payroll and taxes without work, worry or risk.