Senior Care Certifications 101
Where to get them and why they're important.
85 Comments
|
You enjoy working with seniors and have plenty of experience providing companionship, assistance, and care. Maybe you've cared for your own parents or grandparents, or worked at an assisted living facility or nursing home. You know you're qualified. So why do you need to get certified?
Certification will help you gain the trust of seniors and their families by giving you credibility above and beyond your hands-on training. If you're serious about a part-time or full-time career as a senior care provider, certifications are an excellent way to set yourself apart from other care providers.
Where to Start: Popular Senior Care Courses and Certifications
The American Red Cross offers a Family Caregiving Program designed for those who care for the elderly, ill, or disabled at home. The program covers home safety, assisting with personal care (including bathing), healthy eating, and caring for seniors with Alzheimer's disease or dementia.
The National Association for Home Care and Hospice (NAHC)
The National Association for Home Care and Hospice offers national certification for in-home care providers. The Certification for Homemaker/Home Care Aides is awarded to care providers who demonstrate competency in training, skills demonstration, and a written exam. Visit their website for more information on NAHC's education and certification programs.
The National Board for Certification of Hospice & Palliative Nurses (NBCHPN)
The National Board for Certification of Hospice & Palliative Nurses offers several levels of certification, many of which require a nursing license. The Certification for Hospice and Palliative Nursing Assistants (CHPNA) does not require a nursing license, although it does require 2000 practice hours under the supervision of a registered nurse. This certification is good for four years. The CHPNA exam is offered in 50 US locations every March and September. The cost of initial certification is $180, and the cost of renewal is $155. Discounts are available for members of the Hospice and Palliative Nurses Association (HPNA). Visit their website for a candidate handbook and application.
Know the Laws
In some states, you may be required to have both licensing and insurance in order to provide senior care services. Please check with the national organizations above, the Better Business Bureau and local, state, or federal agencies to see what the minimum requirements are for establishing a senior care business in your area. Providing this licensing and insurance information up front will also increase your credibility with prospective employers.
Overall Perspective
According to the U.S. Department of Labor Bureau of Labor Statistics, some states only require senior care providers to have on-the-job training. Other states, however, require more formal training, which may be available at local community colleges or vocational schools. The duties of senior care providers range from housekeeping to personal and medical care. Many senior care providers begin their careers by performing housekeeping duties. Then, with experience, training, and certifications, they become able to provide more personal and medical assistance.
Even the most experienced provider will benefit from education and certification. Certification will make you a more confident and credible senior care provider.
Like this? Get more.
Sign up for the latest articles, news and tips of your choice. All delivered weekly to your inbox.
Find the senior care your loved one deserves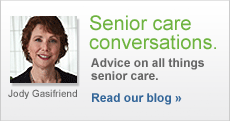 Visit Sheila's Blog
Get advice for your family from our founder (and chief mom officer), Sheila Lirio Marcelo.
Sponsored Listings

Caregiver Tax Service
Care.com HomePay
SM
handles your household payroll and taxes without work, worry or risk.

Philips Lifeline
Finally! A Help Button that can automatically call for help. In an emergency, every second counts.