Pennsylvania Financial Planning
It's never too early to start planning for your retirement and senior care. Read our tips on where you can find resources to help you in Pennsylvania.

0 Comments
Pennsylvania - Financial Planning and Management
Paying for senior care typically covers a whole range of things including housing, medical expenses, prescriptions, caregiver wages, and transportation expenses. Senior care expenses vary widely depending on the level of care your loved one needs, the severity of their medical conditions, and the cost of living in your loved one's area. To help pay for senior care, Medicare, Social Security, and possibly Medicaid benefits will be available to your loved one as will Social Security and Medicare benefits. Also, many medical expenses and prescription bills are either covered or partially covered by insurance plans.
Planning For Your Family
Senior care costs are higher in Pennsylvania than they are for the United States average, so be sure you consider Pennsylvania-specific numbers rather than national averages.
Costs of care will vary according to your loved one's location in the state and the level of care required. According to Genworth Financial, the median costs of different types of long-term care in Pennsylvania are as follows:
- Assisted Living (private, one bedroom): $30,015
- Nursing Home (semi-private room): $91,652
- Nursing Home (private room): $99,280
For more financial information, consult our articles about Medicare and Post-Hospital Care and Veterans Benefit and Elder Care Costs.
More Resources
Senior Care Guide: Care.com's comprehensive guide to senior care that helps readers understand senior care options by describing each option in detail and answering frequently asked questions.
For more information on senior healthcare, visit our Articles and Resources page.
Looking for quality home care in Pennsylvania? Check out the local pages below.
Harrisburg
Pittsburgh
Hanover
Like this? Get more.
Sign up for the latest articles, news and tips of your choice. All delivered weekly to your inbox.
Find the senior care your loved one deserves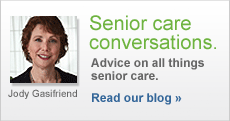 Visit Sheila's Blog
Get advice for your family from our founder (and chief mom officer), Sheila Lirio Marcelo.
Sponsored Listings

ElderLawAnswers
Find an attorney in your community to assist you with long-term care & estate planning issues.

Philips Lifeline
Finally! A Help Button that can automatically call for help. In an emergency, every second counts.
Caregiver Tax Service
Care.com HomePay
SM
handles your household payroll and taxes without work, worry or risk.