Oregon Hospice Care Resources
Read about hospice resources you can access in Oregon.
0 Comments
Oregon - Hospice
End-of-life care is poses an immense challenge. The emotional rollercoaster of caring for a terminally ill loved one is difficult to prepare for and is only made more difficult by the often slow nature of the process.
Hospice and Palliative Care
For many, end-of-life care is characterized by Hospice - attention given to a medical patient with an incurable disease. Hospice does not focus on rehabilitation; instead, hospice is structured to provide humane and compassionate care to an individual in the final phases of his or her life. In other words, the goal of hospice is comfort, not a cure. Hospice and palliative care are essentially the same thing-care for patients in the final stages of life-with a few major differences. The most significant difference is that hospice is usually offered in a home setting, with family members actively contributing to the care. While palliative care can be provided in a home, it is usually given to patients in a hospital setting because there is a greater emphasis in prolonging a patient's life.
The Oregon Hospice Association is a tremendous resource for all things hospice in the Beaver State, including legal resources, FAQ's and volunteer opportunities. It's a tremendous place to begin one's education about end of life care.
POLST, (Physician Orders for Life-Sustaining Treatment), offers several resources specific to Oregon families in order to ensure that the goals of their end of life care are reached.
More Resources
Senior Care Guide: Care.com's comprehensive guide to senior care that helps readers understand senior care options by describing each option in detail and answering frequently asked questions.
For more information on senior healthcare, visit our Articles and Resources page.
Looking for quality senior care in Oregon? Check out the local pages below.
Salem
Albany
Beaverton
Like this? Get more.
Sign up for the latest articles, news and tips of your choice. All delivered weekly to your inbox.
Find the senior care your loved one deserves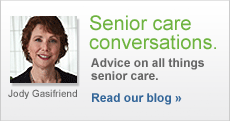 Visit Sheila's Blog
Get advice for your family from our founder (and chief mom officer), Sheila Lirio Marcelo.
Sponsored Listings

Philips Lifeline
Finally! A Help Button that can automatically call for help. In an emergency, every second counts.


Caregiver Tax Service
Care.com HomePay
SM
handles your household payroll and taxes without work, worry or risk.