Oklahoma Transportation Resources
From trips to the grocery store to other errands, get the transportation assistance your senior needs in Oklahoma.
0 Comments
Oklahoma - Senior Transportation
Few seniors give up driving enthusiastically, but as a loved one ages the time may come to
take away the keys
. Many seniors do not want to lose the independence that comes with driving, so be sure to present them with plenty of transportation alternatives. Reassuring a senior that not all mobility is lost is crucial in telling them that it is no longer safe for them to be driving.
Ride Services
For those times when a senior is unable to depend on family, friends, and neighbors for rides, local car, taxi, or bus services are available to fill in the gaps. Such services are often inexpensive and may run on a set route or on a door-to-door basis. The best way to find these types of services is to contact your local senior center or parks and recreation department.
Additional Resources
Oklahoma Transit Links
: A listing of transportation resources, many of which pertain to senior citizens.
Many of these services do not have websites, so be sure to contact your local senior center to find the most convenient option.
More Resources
Need help getting around? Post a
transportation job
.
Looking for quality senior care in Oklahoma? Take a look at the local pages below.

Oklahoma City

Edmond

Norman
Like this? Get more.
Sign up for the latest articles, news and tips of your choice. All delivered weekly to your inbox.
Find the senior care your loved one deserves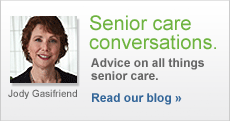 Visit Sheila's Blog
Get advice for your family from our founder (and chief mom officer), Sheila Lirio Marcelo.
Sponsored Listings

Philips Lifeline
Finally! A Help Button that can automatically call for help. In an emergency, every second counts.

Caregiver Tax Service
Care.com HomePay
SM
handles your household payroll and taxes without work, worry or risk.