Oklahoma Senior Housing
Read about the local resources that can help you find senior housing in Oklahoma.

0 Comments
Oklahoma - Housing Resources
At some point during the aging process it is common for an elderly loved one to no longer be able to live home alone.  At this time many families decide to look into a senior housing facility.  Although it may not be the easiest topic to discuss with a senior, it is important to talk to them early to allow plenty of time to search for the right facility.
Nursing Home vs. Assisted Living
Nursing homes and
assisted living
facilities are two of the more common senior housing options
.  A nursing home is right for a senior who requires frequent medical treatment, a lot of monitoring, and assistance with most tasks. For a senior who does not require such a high level of assistance but is not able to live at home, assisted living is a better match. Seniors in assisted living often have social opportunities and activities that they participate in on their own.  Nursing home care focuses more on health care, while assisted living focuses on safety and keeping a senior busy.
Additional Resources
Oklahoma Senior Care Facility Directory
: A directory of licensed nursing home and assisted living facilities across the state.
Medicare Nursing Home Information
: A great resource to help families during their search for a suitable nursing home.
Other Options
Home Care: Home care is a senior care option for seniors who want to remain at home but need assistance to do so. With this care a visiting nurse will carry out various tasks in the home of a senior. 
A careful search will yield the
best results
.
More Resources
Looking for quality senior care in Oklahoma? Take a look at the local pages below.
Oklahoma City
McAlester
Pryor
Like this? Get more.
Sign up for the latest articles, news and tips of your choice. All delivered weekly to your inbox.
Find the senior care your loved one deserves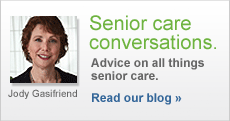 Visit Sheila's Blog
Get advice for your family from our founder (and chief mom officer), Sheila Lirio Marcelo.
Sponsored Listings

Philips Lifeline
Finally! A Help Button that can automatically call for help. In an emergency, every second counts.
Caregiver Tax Service
Care.com HomePay
SM
handles your household payroll and taxes without work, worry or risk.

ElderLawAnswers
Find an attorney in your community to assist you with long-term care & estate planning issues.