National Transportation Resources
From trips to the grocery store to other errands, get the transportation assistance your senior needs in the United States.

0 Comments
Transportation
Get your senior around town with these transportation options.
As seniors age, the conversation whether driving is safe can be difficult. Not all seniors are capable of continuing to drive. And that's not an easy thing to cope with. Learn the
warning signs
that your senior may no longer be safe behind the wheel, and then read
this article
about talking to seniors about driving.   
However, having alternative means of transportation available can help the conversation go a little smoother and ease your loved one's sense that they are losing their independence. Seniors may need transportation to go to the grocery store, run errands, attend doctor appointments or socialize in the community. Families can hire a private caregiver to provide transportation or use transportation services in the community.
There are numerous transportation options available for seniors. Check out
this article
that discusses more on this topic.
When hiring a private caregiver, ensure the person has a valid driver's license and is insured. Ask to see their driving record. If a caregiver uses their own vehicle often, you can reimburse them for mileage or let them use your vehicle.
Communities often have their own local transportation services, such as a senior ride program or a veteran transportation program. These services can typically accommodate people who use a wheelchair or need additional assistance. Some public transportation, such as a buses, trains or subway systems, may also offer senior discounts.
Like this? Get more.
Sign up for the latest articles, news and tips of your choice. All delivered weekly to your inbox.
Find the senior care your loved one deserves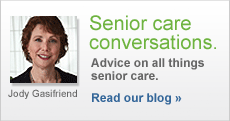 Visit Sheila's Blog
Get advice for your family from our founder (and chief mom officer), Sheila Lirio Marcelo.
Sponsored Listings

Philips Lifeline
Finally! A Help Button that can automatically call for help. In an emergency, every second counts.

ElderLawAnswers
Find an attorney in your community to assist you with long-term care & estate planning issues.
Caregiver Tax Service
Care.com HomePay
SM
handles your household payroll and taxes without work, worry or risk.