Florida Senior Housing
Read about the local resources that can help you find senior housing in Florida.
0 Comments
Florida - Housing Resources
In Florida, several different housing options exist
for seniors.  The most common are assisted living facilities and nursing homes (explained below), but other options include adult day care facilities, village communities, and continuing care retirement communities (CCRCs). 
·         Assisted Living Facilities:  These facilities are ideal for seniors who can no longer live at home, yet do not need professional nursing care. These individuals usually require assistance with personal care, nursing supervision, medication monitoring, social opportunities, meals, housekeeping, and support services, but do not need the full-time care of nursing home residents.
·         Nursing Homes: These residences provide round-the-clock skilled nursing care to those who require medical attention.  Skilled care means nursing or rehabilitation staff is needed to manage, observe, and evaluate one's care. An example of skilled nursing care includes administering intravenous injections, but other types would include infusion therapy, wound care and medication management.
Read Care.com's article about the
5 Things to do Before Your Parent Goes in a Nursing Home
.
More Resources
If you would like to be added to Care.com's list of credentialed facilities, please visit our
Senior Care Company Network
page.
Senior Care Guide
: Care.com's comprehensive guide to senior care that helps readers understand senior care options by describing each option in detail and answering frequently asked questions.     
For more information on senior healthcare, visit our
Articles and Resources
page.
Looking for quality senior care in Florida? Check out the local pages below.
Tallahassee
Boca Raton
North Miami Beach
Like this? Get more.
Sign up for the latest articles, news and tips of your choice. All delivered weekly to your inbox.
Find the senior care your loved one deserves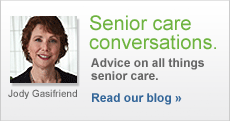 Visit Sheila's Blog
Get advice for your family from our founder (and chief mom officer), Sheila Lirio Marcelo.
Sponsored Listings

Philips Lifeline
Finally! A Help Button that can automatically call for help. In an emergency, every second counts.

Caregiver Tax Service
Care.com HomePay
SM
handles your household payroll and taxes without work, worry or risk.