Affordable Senior Care Directory
Here is a list of wallet-friendly senior care resources for which your loved one might be able to qualify.
0 Comments
|
We understand that senior care can be intimidating, both emotionally and financially. This list of affordable senior care resources should help you research and understand what programs and resources are available if the senior you are caring for has limited means.
Learn about public housing assistance and additional information about public housing programs such as housing choice vouchers. Use this site to find your local public housing agency.
Financial & Benefits (Medicare & Medicaid)
Legal Assistance
Elder Law Answers
Find elder law attorneys nationwide and learn more about legal issues related to senior care.
Aging with Dignity
Create a living will and document a plan for care with your aging loved one as they age.
Long Term Care
Long Term Care Living
Get helpful information about planning for long term care. Click on 'Paying for Long-Term Care' for financial and insurance information. You can also call 808.842.4444.
Respite Care
Local Care Resources
Care.com Local Senior Resources Directory
Find local experts and resources geared toward financial planning, health care, home care, housing resources, legal advice and transportation options.
Eldercare locator
Use this tool to see listings of local eldercare services around the country across various topics such as financial, long-term care, legal, transportation, abuse prevention and others. Call 1.800.677.1116 (M-F 9am - 8pm ET).
Family Caregiver Alliance Family Care Navigator
Sort through your local caregiver resources and find useful advice.
General Caregiving Support
Like this? Get more.
Sign up for the latest articles, news and tips of your choice. All delivered weekly to your inbox.
Find the senior care your loved one deserves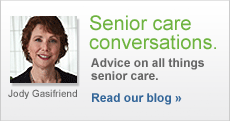 Visit Sheila's Blog
Get advice for your family from our founder (and chief mom officer), Sheila Lirio Marcelo.
Sponsored Listings


Caregiver Tax Service
Care.com HomePay
SM
handles your household payroll and taxes without work, worry or risk.

Philips Lifeline
Finally! A Help Button that can automatically call for help. In an emergency, every second counts.