San Antonio Day Care
Search by location, read reviews, and find the perfect San Antonio daycare for your family today!
A daycare center can be a great option for your child if you:
Need care 20+ hours per week & have a monthly budget of $500 or more
Want a more social & structured environment for your child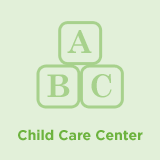 2617 N. ZARZAMORA ST
San Antonio, TX 78201
Established in 1986
OVER THE RAINBOW CHRIST LEARNING & DAY CARE CNT. 1MO. TO 12 MOS. LEARNING BY SIGHT SIGN LANGUAGE A.B.C/123/SHAPES 1YR. TO 2 YR'S LEARN ALPHABETS, NUMBERS, MUSIC , BIBLE, ART,PRAY 3,4,5 IS A STATE ...
More >

12615 San Pedro
San Antonio, TX 78216
Established in 1981
Shearer Hills Baptist Church Early Learning Center provides quality childcare to preschoolers with positive hands-on learning experiences. We understand Preschoolers learn at their own rate and integ...
More >