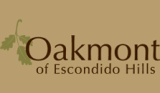 Oakmont of Escondido Hills
Senior Housing
3012 Bear Valley Parkway S Escondido, CA 92025
(760) 735-8084
Company Website
Oakmont of Escondido Hills is a lovely retirement community situated on a lush six-acre campus with lovely views of the Escondido Hills and within walking distance of Westfield's North County Fair Sho...
More
Care.com member since 02/29/2012




What do these symbols mean?
Means they have passed our pre-screen criteria
Means they have not passed one or more of our pre-screen criteria or have not been pre-screened
When we do pre-screen, what do we look for?
During the pre-screening process our CareForce team:
Verifies profile information for accuracy
Cross checks the Better Business Bureau for accreditation and reputation ratings
Conducts an online media search for negative, newsworthy incidents
Performs an overall reputation check by reading a sample of online reviews
Please note that the CareForce pre-screening results do not reflect a care provider's licensing status. Learn more about licensing information for child care centers, family child care, and senior care agencies.
Information reviewed during the pre-screening process can change at any time. Accordingly, please make sure you perform your own research on the care providers you are considering and feel completely comfortable with the company or individual you have selected. Ultimately, you are solely responsible for selecting an appropriate care provider for you and your family.
About this community
COMMUNITY DETAILS
Assisted living
Retirement community
Studio
One bedroom
Two bedrooms
Furnished unit
Kitchenette
Private room
Double room
Alzheimer's/Dementia care
Rehab care
On-site nurse available
Personal care services
Medical psych unit
ALS care
Parkinson's care
Wellness programs
FINANCIAL
FEATURES
ACTIVITIES & AMENITIES
Educational programs
Creative activities
Off-site excursions
Book clubs
Fitness classes
Organized social gatherings
Spiritual gatherings
Resident and family meetings
Linen service
Laundry service
Guest meals
Guest parking
Beauty/Barber shop
Reviews
Average User Rating: