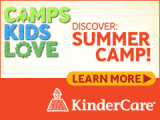 North Salt Lake KinderCare
Camp 775 North 400 East, North Salt Lake, UT 84054
Get set for a thrill-filled summer! Our age-specific, kid-approved camps add up to a season of discovery and fun for preschool to school-age children. This year, our 12 weeks of camps fall into six gr...
More
About this camp
SERVICES OFFERED
SESSIONS
Wild About Water
Dive into the sometimes-surprising ways of water!
PRESCHOOL/PREKINDERGARTEN: Water Here, There, Everywhere.
SCHOOL-AGE: Waterworks (Week 1); Splashdown! (Week 2).

Mighty Bodies, Bendy Brains
Uncover the secrets behind spectacular sports and fitness fun!
PRESCHOOL/PREKINDERGARTEN: Get a Move On.
SCHOOL-AGE: Sports Sleuths (Week 1); Fantastic Fitness (Week 2).

The Wondrous World of Food
Navigate your way to a love of healthy foods and cooking!
PRESCHOOL/PREKINDERGARTEN: Fruity Feasts and Vegetable Treats.
SCHOOL-AGE: From Seed to Table (Week 1); Once Upon a Mealtime (Week 2).

Featured Creatures
Safari to the secret lives of hoppers, climbers, crawlers, and leapers!
PRESCHOOL/PREKINDERGARTEN: Animal Academy.
SCHOOL-AGE: Creepy Crawlies (Week 1); Spiny Specimens (Week 2).

Awesome Art
Travel back in time to learn about art, then dream up creative masterpieces!
PRESCHOOL/PREKINDERGARTEN: Art-Tastic.
SCHOOL-AGE: Ancient Drawings to Modern Doodles (Week 1); Eye-Popping Art (Week 2).

Gravity Galore and More
Float up, up, and away to a place where science is the star!
PRESCHOOL/PREKINDERGARTEN: Astro Adventures.
SCHOOL-AGE: Destination Mars (Week 1); Tricky Science (Week 2).
Reviews
Average User Rating: