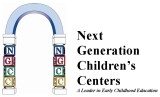 Next Generation Children's Centers
Child Care Center
2 Wood St, Hopkinton, MA 01748
508-497-0110
Company Website

Special Offer:
Mention Care.com and get your Initial Registration Fee WAIVED!
OFFER EXPIRES 05/14/2014
Your child's journey to new learning experiences and friendships starts with a nurturing environment in your home and extends to the enriching childcare programs at Next Generation. We are a local, fa...
More
About this program
SERVICES OFFERED
Up to 6 months
7 months-3 years
4-6 years
After school programs
Summer camp
HOURS
7:00AM - 6:00PM
7:00AM - 6:00PM
7:00AM - 6:00PM
7:00AM - 6:00PM
7:00AM - 6:00PM
Closed
Closed
Reviews
Average User Rating:


Natalie says:

Our family has used Next Generation Children's Center for the last six years. My youngest son just graduated Kindergarten last year and is now thriving in first grade at his current school. Though most of our experience was at the Franklin school, my youngest spent his Kindergarten year at Hopkinton. They were fantastic. You have to put in a code just to get in the school and there's always a friendly reception as you walk in. They were also helpful and responsive with any questions or issues I might have had. In the classroom, there is always plenty to keep the children engaged and occupied. They have a way of teaching the children that makes it fun. From learning a little about math, letters, reading and writing, to doing interesting science projects. Things I don't remember ever doing at that age. The teacher to student ratio is very good too. I always felt there were plenty of adults around. The outdoor playground is a nice size with plenty of structures and swings to play on. I also appreciated the covered area with bikes and small play houses. It was nice for the kids to be able to go outside on raining, yet warm days and get some fresh air. The communication between the staff and parent is great. In Kindergarten, we got a written update every Friday. In the younger classes, it was every day. What they ate, how much they slept, and what they learned were always communicated. My kids loved it. They would run in the door and almost forget to give me a kiss goodby! I highly recommend them.