Care.com Infographics
Add our infographics to your article, website or blog and help your readers stay on top of the latest parenting and family care trends.
Care.com looks at what families are paying for care and how it fits into their budgets. Read
this article
to learn more.
Learn what people really think about spring cleaning, from the most hated cleaning tasks to what to pay a housekeeper.
Use this interactive infographic from Care.com to learn the average nanny bonus in each state.
Care.com ranks the top 15 nanny-friendly cities in the United States.
The 2012 Workplace Solutions ROI Survey presents a strong business case for implementing Care.com as a corporate benefit.
Care.com Survey shows Valentine's Day is either family-friendly or a last-minute occasion.
78% enjoy being a working parent, while 73% of companies where working moms are employed do not offer child care benefits. Note: Actual infographic image size is 800x1224.
30% of parents fear bullying and cyberbullying more than terrorism or other concerns.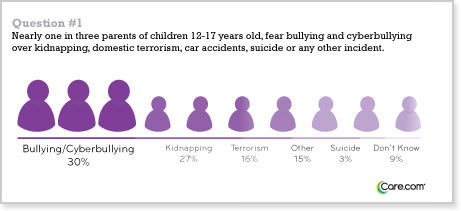 Due to fear of cyberbullying, 75% of parents monitor their children's text messages and social media activity.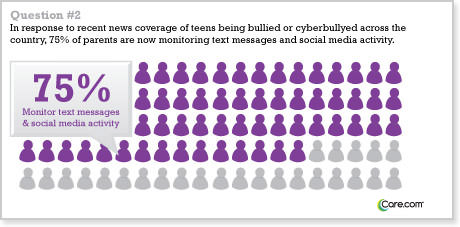 1 out of 5 parents give their children's school a failing grade concerning bullying.

Step up, summer sitters and nannies! Parents expect more activity planning in the warmer months.