Government Benefits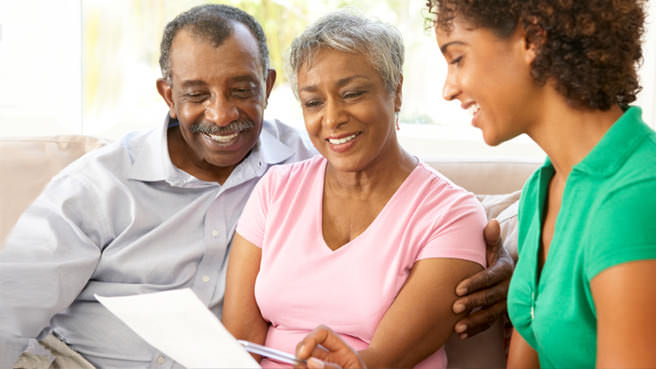 Tips on understanding federal and state benefits for senior care. Read on to see if you qualify for long-term care, veterans benefits and more.
As individuals age there are often many questions regarding how to pay for care. Many people are surprised to learn that Medicare does not pay for long term care. Additionally, people may be unaware of benefits they may be eligible for to assist them with paying for care. Some programs are implemented on the federal level and therefore remain the same across the country, such as Medicare, whereas other programs vary state by state, such as Medicaid.
Medicare
Medicare is a federal health insurance program designed for individuals over the age of sixty-five or for individuals younger than sixty-five with certain disabilities.
There are four parts to Medicare: A, B, C and D. Part A focuses on hospitals. It covers hospital visits and stays, including rehabilitation in a skilled nursing facility, up to 100 days. It also covers hospice and limited home health care coverage.
Part B focus on ongoing medical care and covers outpatient care such as doctor visits, preventative care, rehabilitation and physical therapy. An individual must be hospitalized for three consecutive days to receive rehabilitation coverage. There are no restrictions on the doctor you can see but there is a copay for these visits.
Part C is the Medicare Advantage Plan. These plans are administered by private insurance companies and can be more cost effective than part B. However there are limitations on the doctors an individual can see and the service providers. This can be challenging taking into consideration that the average seventy-five year old has three or more chronic health conditions.
Part D is an optional prescription drug coverage plan. Different options have different fees, copays and deductibles. The "Donut Hole" is a Medicare Part D gave in coverage for prescription medications. The beneficiary is responsible for all drug costs until the deductible is reached. The beneficiary then pays a certain percentage of the drug costs while the rest is covered by Part D until a certain combined total is reached. Once that total is reached the beneficiary is responsible for the entire cost of drugs until a new limit is reached.  This coverage gap is growing smaller due to the Affordable Care Act.
Medicaid
Medicaid is a joint federal and state program that pays medical costs for low income individuals. Medicaid does vary state by state and every state has different eligibility requirements for each population that they serve: pregnant women, children, the elderly or disabled individuals.  To determine eligibility you must fall within the income level determined by the state.
Medicaid covers medical care such as physician visits, hospital bills, prescriptions and long term care. It is the largest payer source of long term care and covers two-thirds of all nursing home patients.
If you or a loved one may be eligible for Medicaid you can contact an Elder Law Attorney for more information about eligibility in your state.
Veterans Benefits
Veterans benefits are monthly benefits that a military veteran or the surviving spouse of a veteran can receive.
In order to receive these benefits you must be sixty-five or older and honorably discharged. Individuals younger than sixty-five with certain disabilities may also qualify. Benefits are based on income and therefore individuals may not qualify if their income exceeds a certain limit.
The Aid and Attendance benefit is designed specifically for veterans who need assistance with care needs such as bathing, feeding, dressing, meal preparation, medication prompting and ambulating. The veteran receives a monthly stipend that will help pay for the cost of a caregiver to assist with their care needs.
To apply for assistance or determine if someone is eligible you can check out the website for the Department of Veterans Affairs.
Medicare and Medicaid
Veterans Benefits
Benefits By State
Visit Sheila's Blog
Get advice and tips for your family from our founder (and chief mom officer), Sheila Lirio Marcelo.