Glenside Day Care
Search by location, read reviews, and find the perfect Glenside daycare for your family today!
A daycare center can be a great option for your child if you:
Need care 20+ hours per week & have a monthly budget of $500 or more
Want a more social & structured environment for your child

886 York Rd.
Warminster, PA 18974
At The Learning Experience Academy of Early Education, we believe that caring for and educating children is a noble and enriching task. We are more than just a child care center. We pride ourselves on...
More >

101 Lower State Road
Ambler, PA 19002
Established in 2005
The Malvern School offers year round educational programs for Infants, Toddlers, Preschool, Pre-Kindergarten and School Age children from 6 weeks to eight years. We are open 7am to 6pm with full and h...
More >
1001 Remington Road
Wynnewood, PA 19096
Established in 1950
Why do we do what we do? Because your children are our future. At Temple Beth Hillel Beth El's Early Childhood Center we believe that "play is the work of children." We focus our curriculum on play...
More >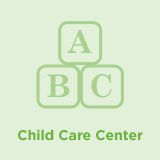 9356A Old Bustleton Ave
Philadelphia, PA 19115
Established in 1996
We are dedicated to the children while working with them in groups and one on one to maximize their skills and potentials ." Allowing Childre...
More >