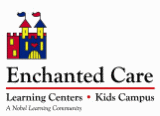 Enchanted Care Learning Center Westerville
Child Care Center 1243 County Line Rd, Westerville, OH 43081
Our preschool combines learning experiences and structured play in a fun, safe and nurturing environment - offering more than just child care. Preschool is the first introduction to a lifetime of lear...
More
About this program
SERVICES OFFERED
Up to 6 months
7 months-3 years
4-6 years
HOURS
7:00AM - 6:00PM
7:00AM - 6:00PM
7:00AM - 6:00PM
7:00AM - 6:00PM
7:00AM - 6:00PM
Closed
Closed
Reviews
Average User Rating:

Stephanie D says:
My son went to enchanted care for 4 years afeter school and they do a great job! Loved Emily the director, she went above and beyond to work with my son. Also Kathleen was great and consistent and made care fun.