Culver City Camps
Search now to find the best camp for your child!
A summer camp can be a great option for your child if you:
Need summer child care, but also want to provide structure and enrichment
Want your child to meet new friends and try new activities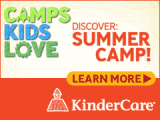 2916 Hope Street
Los Angeles, CA 90007
Get set for a thrill-filled summer! Our age-specific, kid-approved camps add up to a season of discovery and fun for preschool to school-age children. This year, our 12 weeks of camps fall into six gr...
More >


At UCLA - Residential/Commuter Program
Los Angeles, CA 90024
Established in 1984
University of California Los Angeles, established in 1919, is the most applied to university in the U.S. From its celebrated faculty to its super high-achieving students, from its distinguished alumni...
More >