Bethesda Camps
Search now to find the best camp for your child!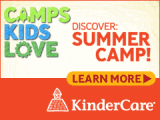 1227 North Ivy St
Arlington, VA 22201
Get set for a thrill-filled summer! Our age-specific, kid-approved camps add up to a season of discovery and fun for preschool to school-age children. This year, our 12 weeks of camps fall into six gr...
More >

9601 Medical Center Drive
Rockville, MD 20850
Established in 2012
THE BLISSETT SCHOOL - OVAL TURTLE CAMPS 2013 The Blissett School now offers Winter Weekend Camp and a full-day Summer Camp through school's Oval Turtle Center! The innovative, one-of-a-kind camps...
More >


At The Woods Academy - Day Program
Bethesda, MD 20817
Established in 1984
The Woods Academy is an independent school offering boys and girls from pre-school to eighth grade a challenging and supportive educational experience. Founded in 1975, Woods is the only independent, ...
More >