Bellingham Camps
Search now to find the best camp for your child!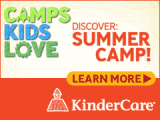 2320 Yew Street
Bellingham, WA 98226
Get set for a thrill-filled summer! Our age-specific, kid-approved camps add up to a season of discovery and fun for preschool to school-age children. This year, our 12 weeks of camps fall into six gr...
More >

286 Four Winds Road
Deer Harbor, WA 98243
Established in 1927
"Four Winds * Westward Ho is a traditional summer camp for boys and girls ages 7 to 18 on Orcas Island in Washington State's San Juan Islands. With over a hundred acres of woods, fields and waterfront...
More >